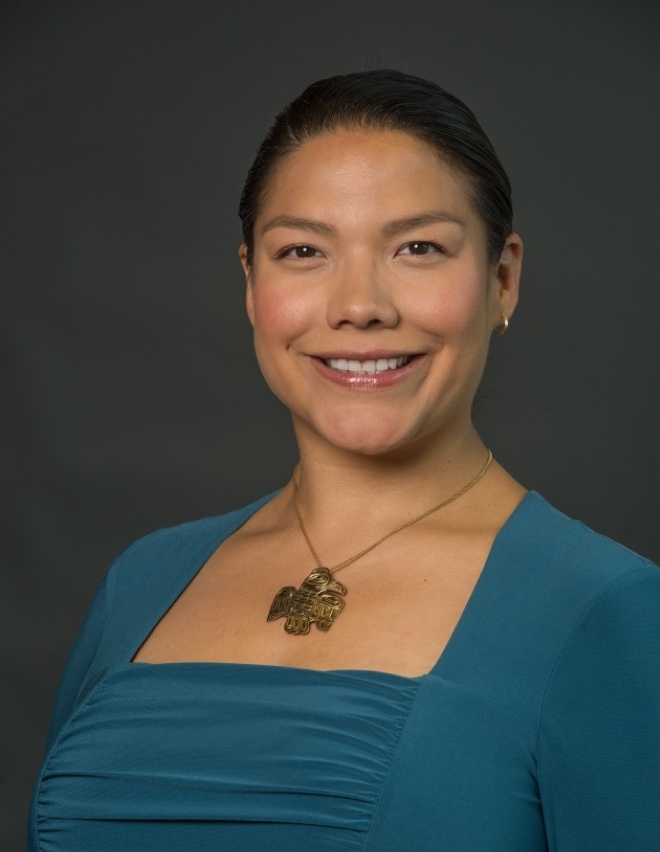 Announcing the Next Leader of the Jane Glassco Northern Fellowship
The Jane Glassco Northern Fellowship is a policy and leadership development program recognizing leadership potential among young northern Canadians eager to address policy challenges facing the North.
After an extensive search, it is with great pleasure and excitement that we announce Melaina Sheldon will be joining The Gordon Foundation team to lead this initiative. It may come as little surprise that our Jane Glassco Northern Fellowship leader is herself an alumna of the program.
Melaina is Inland Tlingit and Southern Tutchone from Teslin, Yukon Territory. She is of the Deisheetaan (Split Tail Beaver) Clan, Raven moiety, and is a member of the Teslin Tlingit Council. Raised and currently living in her community, Melaina brings to the Foundation a deep understanding of the Fellowship program, a strong commitment to communities in the North and a passion to ensure the success of the next generation of leaders creating a North for the North by the North.
Please join me in welcoming Melaina on August 15, 2017.
To hear from Melaina in her own words please read below for a short Q&A.
Tell me about yourself.
My name is Melaina Sheldon and I am Inland Tlingit of the Deisheetaan Clan from Teslin, Yukon Territory.  I am a born and raised Yukoner who left to attain a BA from the University of Victoria, a diploma in Fashion Design from the Helen Lefeaux School of Fashion Design and returned to the Yukon in 2008.  Since returning home I have worked for a number of organizations including the Council of Yukon First Nations, Yukon College and my own self-governing First Nation, Teslin Tlingit Council.   Returning to the Yukon has provided me a sense of security, but also unlimited opportunities to explore my cultural and artistic pursuits.
What motivates you in your work?
Working for an organization whose values reflect my own makes it easy to stay motivated and passionate in my work.  It is essential for me to feel that I am working on realistic and sustainable initiatives which are beneficial to current and future generations; where ideas can become reality and effect positive change through positive action.  Even if initiatives are not as successful as expected, a team that maintains optimism and adaptability will always motivate me.
I am also motivated by a high personal standard and a legacy of hard work ethic inherited from my parents and grandparents which always reminds me to do my best and to work with quality and care. This personal standard has given me the foresight to work on projects always keeping longevity and legacy in mind.  I am motivated in my work when my existing skillset is utilized and there is an opportunity to gain new skills and to grow professionally.
My motivation is also driven by a strong belief in engaging networks and initiating greater success through collaboration with like minded individuals and groups.  My most successful initiatives have always been maximized by collaboration with others.  I find that nurturing networks and creating partnerships where knowledge is shared, understanding is then created and the outcomes are enriched.
What do you think is the most valuable knowledge or skill Fellows learn during their time in the Jane Glassco Northern Fellowship?
The most valuable knowledge Fellows gain during their time in the Jane Glassco Northern Fellowship is how to honour their unique perspectives as people of the North and the most valuable skill they gain is a methodology for how to put forth their insights to policy making bodies and/or to step into professional policy making positions within any northern government once they have graduated the program or sometimes during!  This methodology has policy creation at its foundation, but also offers Fellows mentorship in leadership and team/group work, public speaking and presentation, research, public relations and media relations.
The professional development work is enhanced greatly due to the gatherings taking place in physical Northern space, providing Fellows the once in a lifetime experience to travel to all three northern territories, and the Nation's capital, meeting with governments and engaging with representatives and territorial leaders. It is through physically engaging with these places and communities that Fellows gain a greater understanding and perspective of the North in which they live and are able to establish their own contacts and professional networks.
What impact did the Jane Glassco Northern Fellowship have on your career?
The Jane Glassco Northern Fellowship opened doors and provided opportunities to me that I may not have otherwise had in my career.  As a student, a citizen or an employee the worlds of policy creation and politics do not always have a clear entry point.  Through the Fellowship I received the support of a personal mentor and a number of advisors and "guides" paired with a method of learning-by-doing igniting a personal confidence in my own ideas and how to create and effect policy.
I also had the opportunity for the first time as a life-long northerner not only to visit the neighbouring territories, but to learn about their government structures, meet selected territorial officials and Indigenous government leaders, local Indigenous knowledge keepers and was immediately immersed in the local culture as locally based Fellows honestly showcased their communities.   Being able to meet current and future leaders from other northern communities has greatly enriched my northern knowing.  I feel that I have joined a large northern network and gained experiences that will aide me in my career for years to come.
What does developing northern policy for the North by the North mean to you?
Developing northern policy for the North by the North, for me, means the creation of policies that will realistically reflect and consider Northern community needs. With northerners at the helm of northern policy creation the work generated will prove more implementable, effective and sustainable, as there is knowledge of northern life that can only be attained by spending substantial time there.  Indigenous and non-Indigenous people living in the North hold unique local, grassroots knowledge from being on the land, knowing, seeing, being engaged in and loving the communities in which they live and in which they want to raise their children.  Because of this love, policy created by northerners for the North would take greater precaution to ensure the relevance of and the proper fit for policy stipulations within the northern reality as they would be composed from a Northern worldview. I believe the most effective policies influencing the North are the ones inclusive of northern knowledge, as northerners are the ones with first-hand experience of the barriers and emerging issues they face.
What has excited you most about leading the Jane Glassco Northern Fellowship program?
Following Fellowship Alumni and knowing where they are today, you can see first-hand the effect this program has had on the North. Many Fellowship Alumni remain in contact and work with the Foundation and have gone on to work for their respective Territorial and Federal governments, or have continued to pursue their personal projects creating their own new initiatives.  What I appreciate most about the program is its pan-northern inclusivity, spanning the three territories and inviting both Indigenous and non-Indigenous northerners to participate.
I almost cannot believe that I will have the opportunity to be working with some of Canada's most dynamic minds, hearing prospective Fellows' relevant and timely proposals.  It is exciting to know I will be of assistance as Fellows make their journey through the program; aiding in the evolution of their personal and group projects by generating a positive, professional and enriching experience.  I look forward to encouraging the success of fellow northern leaders and helping to sustain a dynamic network of northern leaders and mentors ensuring the longevity of the Fellowship program and its established network.  I am also very excited to be working with The Gordon Foundation Family, Staff and Board and working to ensure that we remain connected as we move throughout our careers.