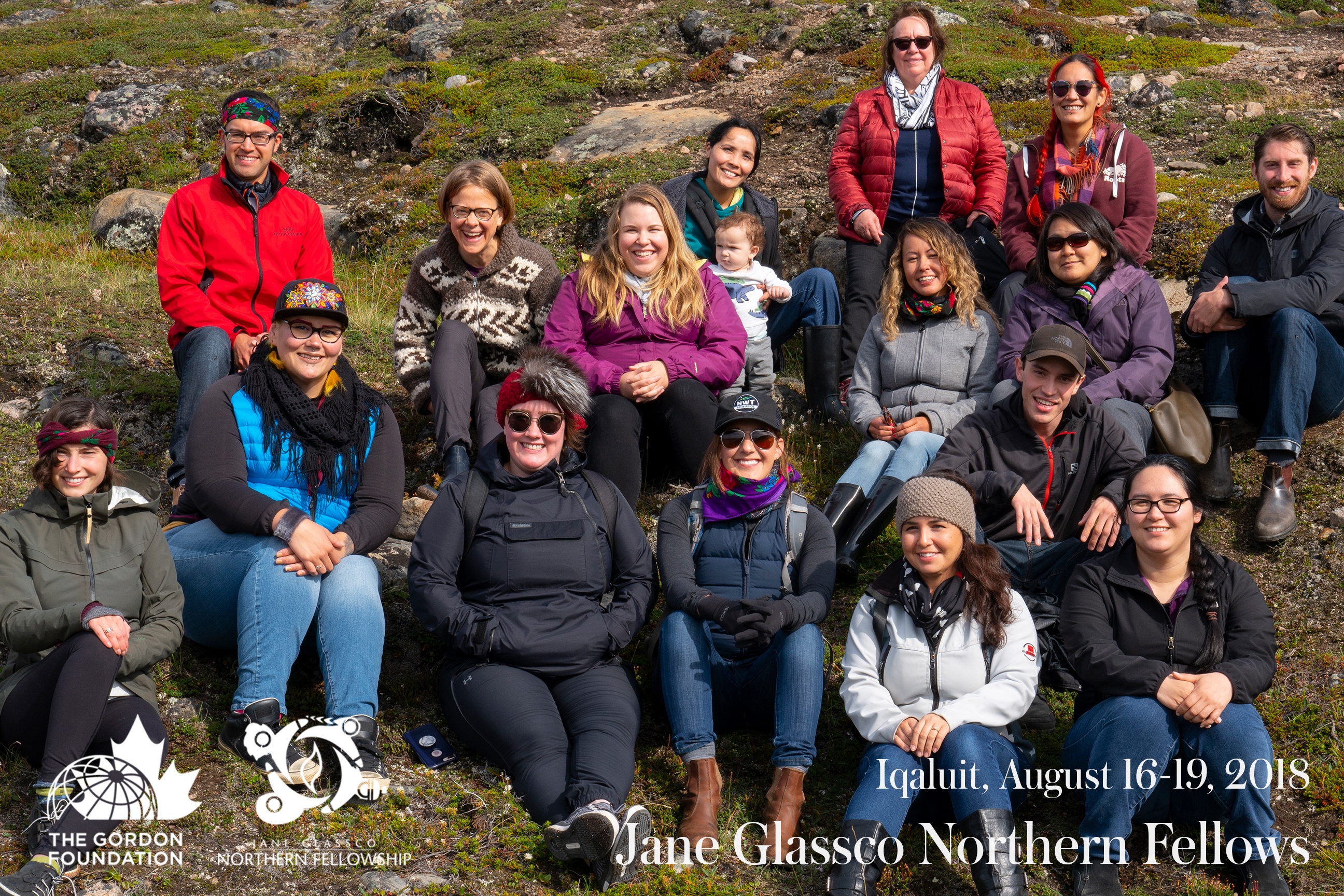 ---
The Jane Glassco Northern Fellows gathered in Iqaluit, NU from August 16-19, 2018. They spent four days discussing their visions for a vibrant North with senior government leaders including Premier Joe Savikataaq and Mayor Madeleine Redfern.
The Fellows also met with influential policy experts and cultural leaders. Presenters included: acclaimed author, activist and Nobel Prize nominee Sheila Watt-Cloutier; Aluki Kotierk from Nunavut Tunngavik Inc.; Sandra Inutiq and Navarana Beveridge from Qikiqtani Inuit Association; Leena Evic from the Pirurvik Cultural Centre; Patrick Nagle and Pauline Pemik from CBC North; Larry Innes from Olthuis Kleer Townshend LLP; and Karsten Henriksen from Nunavut Arctic College.
The Fellowship is a two-year policy and leadership development program for emerging leaders from across the territorial North and Inuit Nunangat. Since 2010 there have been four cohorts of Fellows between the ages of 25 and 35. Current Fellows include mayors, academics, civil servants and business leaders.
"These gatherings are important opportunities for Fellows to share their ideas, collaborate on policy research and to network and receive feedback from renowned experts in their fields," says Program Manager Melaina Sheldon.
The Fellows are working on policy proposals for priority northern issues including land based education initiatives, language revitalization and implementation of land claims agreements.
"The lessons the Fellows learned during this gathering has informed their knowledge of the similarities and differences, initiatives and challenges unique to Canada's North. Interacting with local cultural and political leaders will inform their policy work and provide enriched perspectives on the vital leadership roles the Fellows already play  in their home communities and across the North," Sheldon says.
Former Yukon Premier Tony Penikett is a senior Program Advisor and has been working with The Gordon Foundation to plan the Gathering. Panel discussions examined Inuit culture and organizations; policy issues facing Nunavut; governance of Nunavut; and a history and overview of modern land claims.
For updates about the Jane Glassco Northern Fellowship sign up to The Gordon Foundation newsletter at www.GordonFoundation.ca or follow @GlasscoFellows on Twitter.
Photos below from Chickweed Arts / Jamie Griffith