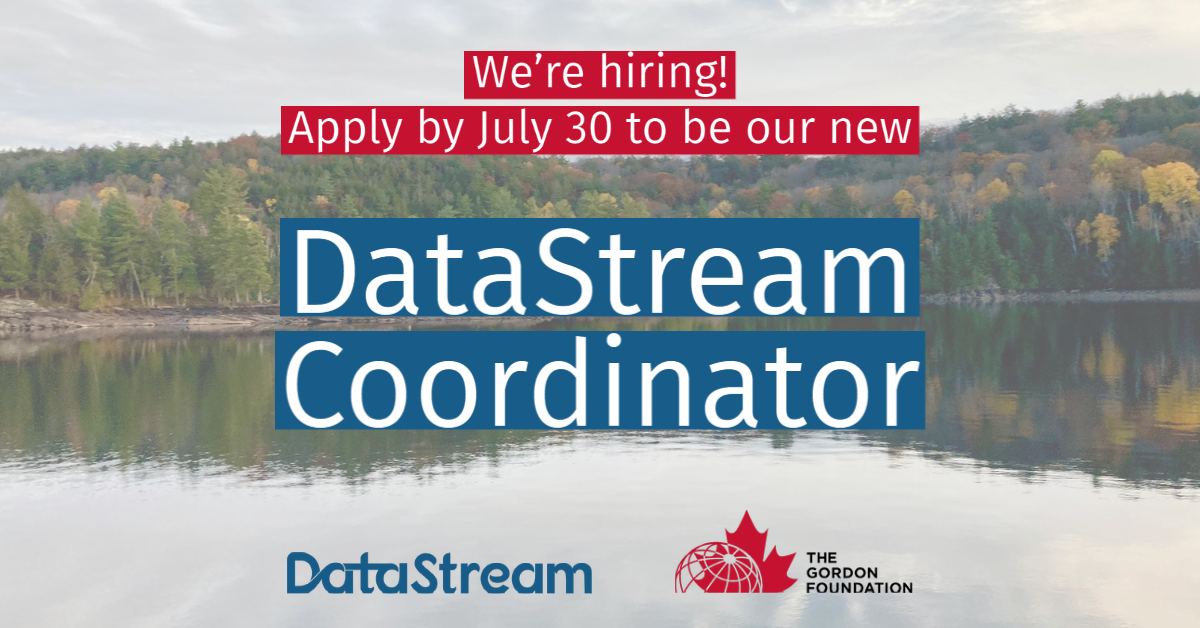 ---
The Gordon Foundation is a philanthropic foundation based in Toronto, Canada. The Foundation undertakes research, leadership development and public dialogue so that public policies in Canada reflect a commitment to collaborative stewardship of our freshwater resources and to a people-driven, equitable and evolving North.
About DataStream
DataStream is an open access platform for sharing water data. Its mission is to promote knowledge sharing and advance collaborative, evidence-based decision-making. DataStream is carried out in partnership with regional monitoring networks. There are currently three DataStream hubs:
About the Role
This position will support the operation and expansion of DataStream, a dynamic, rapidly growing initiative. Reporting to the Executive Director of the Water Program, the DataStream Coordinator will support and coordinate DataStream's day-to-day operations.
The successful candidate will be highly organized, a self-starter, curious, capable of juggling a range of tasks, hard-working and a team player.
The position will be based in Toronto.
Key Areas of Responsibility
Provide coordination and administrative support as required to support the day-to-day operation and development of DataStream. Responsibilities include:
Work with the DataStream team to improve internal processes to better meet organizational goals.
Coordinate logistics for virtual and in-person meetings and events.
Prepare and post digital assets including webinar recordings, how-to videos, blogs.
Prepare and coordinate proposals, reports, and presentations.
Support the DataStream team in meeting external deadlines with funders and partners by tracking and storing documents, tracking and managing workplans and external reporting.
Manage general administrative duties including mailings, filing, file management etc.
Keep contacts and lists up-to-date in Salesforce.
Managing budgets for projects.
Organize and maintain DataStream assets, reports and other materials.
Monitor relevant government programs related to water issues and open data.
Provide general support to The Gordon Foundation on an as-needed basis.
Education and Experience
University degree or college diploma.
2-4 years' experience preferably in the charitable or non-profit sector.
Required Skills and Qualifications
Excellent written and oral skills.
Ability to learn and engage with internal systems/technologies.
Experience improving internal systems and processes to achieve program goals.
Accuracy and attention to detail.
Ability to manage multiple projects and shifting priorities within tight timelines.
Ability to work with colleagues located remotely.
A self-starter with good judgement and the ability to work independently and as an effective team member.
Strong problem-solving, and interpersonal skills.
Preference will be given to applicants identifying as Indigenous (Inuit, First Nations or Métis).
Additional Skills and Qualifications
High level of proficiency in French a major asset.
Completion of diploma or courses in project management.
Experience producing digital assets including videos, blogs and brochures etc.
Experience supporting fundraising in a not-for-profit setting.
How to Apply
This is a one year contract position with the possibility of extension to a permanent role. The salary range for this position is $45,000 to $70,000 commensurate with experience. We offer a comprehensive benefits package.
Anticipated start date: August or September 2021.
To apply, please forward your resume and cover letter to DataStream@Gordonfn.org with "DataStream Coordinator" in the subject line. Only candidates invited for an interview will be contacted.
Your resume and cover letter must be received by 11:59pm on July 30, 2021