1965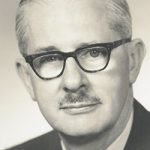 In 1965 The Walter and Duncan Gordon Foundation was established by brothers Duncan and Walter Lockhart Gordon and Walter's wife Elizabeth Gordon. Foundation objectives were broadly defined as: "to promote, assist and engage in charitable work throughout Canada."
Founders
Walter Gordon
Born in Toronto on January 27, 1906, Walter Lockhart Gordon was the oldest of the three sons and two daughters of Lt. Colonel Harry Duncan Lockhart Gordon and Kathleen H. Cassels.
Gordon's father served with distinction in World War I, and his wife and his two oldest children (Walter and Hugh) spent several of these years (1915-1918) in England where they attended the Grange preparatory school. Gordon noted that it was during this period that he experienced a nascent sense of his Canadian identity. While attending school in England, he contracted polio. The disease affected his vision and paralyzed some of his facial muscles.
On their return to Canada, Walter Gordon followed in his father's footsteps, attending Upper Canada College in Toronto and then the Royal Military College of Canada in Kingston.
In 1927 he joined the family accountancy firm Clarkson, Gordon and Company and was made partner in 1935.
In 1939, on the eve of World War II, Gordon, known as the 'figure wizard' was commandeered to help establish the Foreign Exchange Control Board. During the war years, he was special advisor to the deputy minister of finance. In 1946, he chaired the Royal Commission on Administrative Classification in the Public Service. In the immediate post-war years he also helped reorganize Ontario Hydro, paving the way for its future development.
In 1955, Gordon, a member of the Board of Governors of the University of Toronto and past president of the Toronto Board of Trade, was asked by Prime Minister St. Laurent to chair a royal commission on Canada's long-term economic prospects.
The Gordon Commission, created in response to the rising tide of foreign ownership in the Canadian economy, addressed concerns that were revisited by Gordon throughout his career and were later reflected in the establishment of the Foundation.
In the 1962 federal election, Gordon was elected to the House of Commons as a Liberal for the riding of Toronto-Davenport in the government of Prime Minister Lester B. Pearson. He served as Minister of Finance between 1963 and 1965, and President of the Privy Council from 1967-1968. These years were characterized by his ongoing concern over Canada's control of its economy and his support for new social programs.
In 1968, after declining an invitation to join the government of the newly elected Prime Minister Pierre Trudeau, whose leadership he had supported, Gordon returned to his business career. However, he continued to argue for greater Canadian control of the country's economy and in 1970, was instrumental in helping to establish the Committee for an Independent Canada. The CIC, active until 1981, included members from a broad array of professions and all three major political parties. The Committee published a number of books on economic nationalism and overall, achieved many of its goals.
Gordon also served as Chair of the Canadian Institute for Economic Policy between 1978-1984, as Chancellor of York University from 1973 -1977, and as a Senior Fellow at Massey College from 1973-1978.
Walter Gordon was an inspiration to more than one generation of Canadians and he is still remembered today for his unwavering defense of Canada's economic independence and sovereignty. His philanthropic legacy continues to serve as a shining example of his and his family's, commitment to the public good. This commitment is in integral to the ongoing work of the Foundation's Directors and staff.
Walter Gordon's passion for public policy drove a large part of the Foundation's grant making in the early years. For example, support was provided to the Canadian Institute on Public Affairs, Canadian Institute on Economic Policy, the Canadian Institute of International Affairs and Massey College, where Walter Gordon served as a Senior Fellow. Following in this legacy, the Foundation endowed the Walter Gordon Forum on Public Policy in 1990, now a much-anticipated yearly event at Massey College.
Walter Gordon was widely known and respected for his principled commitment to his country and his generous philanthropy. Among other honours, he was made a Commander of the British Empire and a Companion of the Order of Canada.
Duncan Gordon
Born in 1914, Duncan Lockhart Gordon was the third son of Lt. Colonel Harry Duncan Lockhart Gordon and Kathleen H. Cassels' five children. Like his father and two older brothers, he was educated at Upper Canada College in Toronto and the Royal Military College in Kingston.
He served in uniform from the beginning to the end of the Second World War—more than six years—and rose to the rank of Lt. Colonel. While fighting with Canadian forces in Italy, Duncan was wounded at the battle of Monte Casino. He was awarded the Member of the British Empire (MBE) medal as well as the Italy Star and other military campaign decorations
On his return from Europe after WWII, Duncan Gordon joined Clarkson, Gordon & Company where he became a senior partner and ran the company after his brother entered politics.
Although he had a quieter public profile than Walter, he was passionately involved with the development of the Hospital for Sick Children and served for many years as Chair of its board of directors.
His interest in health issues is reflected in the work of the Foundation between 1965 and 1987. Its beneficiaries included the Canadian Institute for Child Health, St. John Ambulance, Montreal General Hospital, Toronto General Hospital, St. Michael's Hospital Fund, National Mental Health Fund, the Canadian Paraplegic Association, the Lupus Association, Dying with Dignity, Hospice King and the Casey House Hospice.
In 1987 he was awarded the Order of Canada.
Elizabeth Gordon
With her keen intellect, strong sense of one's role and responsibilities in the wider society and boundless energy, Elizabeth Gordon achieved great influence within her family, the Toronto art world of her times.
She was a passionate supporter of her husband, Walter Gordon's interests and career and played a key role in the profile of The Gordon Foundation. Her passions, in addition to friends and family, included art, museums – for showing and sharing art – and the public value of good design. One of her major contributions to The Gordon Foundation was to insist on grants for the arts.
Elizabeth Marjorie Leith (Counsell) Gordon was born in Hamilton, Ontario. She was the granddaughter of George Gibbons, QC, a barrister from London, Ontario, who crafted the International Boundary Waters Treaty of 1908 between the United States and Canada. The Treaty remains extant and defines the obligations and international boundary line through the Great Lakes – the substance of which later became central to the Gordon Foundation Program on Water Issues.
She attended private schools and then traveled to Europe as part of her ongoing education. It was there that she developed a lifelong interest in art, history and culture. Elizabeth studied art and sculpture in Paris and, upon returning to Canada, continued her studies with Frances Loring and Florence Wylde.
She returned to Canada to marry Walter Gordon – who was just starting in the family firm. She and Walter had three children: Kyra, Jane and John.
Following the birth of her second daughter, Jane, and with the outbreak of the WWII, the family moved to Ottawa. Around that time, her brother John was seriously wounded at Dieppe. As a result of those changes, Elizabeth did not continue her own personal artistic career.
For many years, Elizabeth led or was active with the Women's Committee at the Art Gallery of Toronto – now the Art Gallery of Ontario (AGO). In her own words she defined their mission as follows: "to stimulate interest in the Gallery, and to increase its membership."
To that end, she and the Committee inaugurated a number of activities. These included — among many others — Gallery luncheons that were held after every opening. Committee members were responsible for cooking and serving the lunches, for which they charged a dollar. They also instituted a series of lectures on everything from flower arranging to old china to Picasso, an annual painting and sculpture sale, as well as tours of artists' studios.
Many of the AGO's most prized paintings and sculpture are testimony to her determined leadership, resolute fundraising and connoisseur's eye. Elizabeth reached out beyond the role of arts patron to establish warm and enduring friendships with many leading Canadian artists of her generation.
Until the early 1990s, Elizabeth encouraged emerging art galleries and museums across Ontario by providing support through the Foundation to enable the purchase of original works of art. The first arts grant was made in 1969 to the AGO. The Foundation also contributed to the Toronto Dance Theatre, the Shaw Festival and the Tarragon Theatre, co-founded by her daughter Jane Glassco.
In Elizabeth's memory, the Foundation continues the Elizabeth L. Gordon Art Program, which enables public galleries in Ontario to expand their collections. An evaluation of the Art Program, undertaken in 2000, strongly affirmed the impact of this modest matching grants program.
Throughout their marriage, Elizabeth was Walter Gordon's strong support. They shared a passion for discovery and travelling around the world to see for themselves how different people and countries worked. However, nowhere were they happier than at their country property north of Toronto – which they transformed from swamps and bald glacial moraine land into a dense forest with splendid gardens and productive fields; a protected natural environment, and testament to their love of the land and their country.
Kyra L. Montagu
Kyra Montagu is a practicing psychotherapist and psychoanalyst in Cambridge, Massachusetts after a previous career developing many different kinds of programs with both museums and artists in the Boston area. She has become increasingly interested recently in issues affecting refugees and their livelihoods.
Kyra is married to Jean (Coco) Montagu and is the mother of Sasha and Dominic Montagu.
John Gordon
The youngest of the Gordon children, John Gordon was born in 1946 and followed in his father Walter's footsteps forging a career as a Chartered Accountant and later, as an award winning Land Developer. John's involvement in The Foundation began as it was reinventing itself in the mid- to late-eighties following the deaths of Walter and Duncan in 1987.
As each of the Gordon children assumed a leadership position and individual focus within The Foundation, John's a passion for education emerged; with a specific focus on improving Canadian public schools and supporting at risk youth. He led the education program at the Gordon Foundation for eight years, championing many successful initiatives including, "Student Voices," a study of how to boost student confidence and the conference "Listening to the Voices" that followed.
It was John's work on the Manitoba School Improvement Program (MSIP) that best reflected his passion, business style, and commitment. Designed to be simple, direct and innovative, the MSIP was launched in 1990 to support all worthwhile programs or initiatives conceived by Winnipeg educators to enhance their students' learning experience. At the time, Manitoba had yet to standardize public education and John recognized the opportunity for innovation and improved experiences for students and educators.
John Gordon passed away on October 16, 2015. He played an integral role in the modernization of The Gordon Foundation and his passion for education has carried forward to today through the Jane Glassco Northern Fellowship program. John's passion continues to serve as inspiration and the Glassco Fellows embody all that John stood for: dynamic young leaders committed to the prosperity and independence of their communities and ways of life.
Jane Glassco
Through her tireless work with The Gordon Foundation, Jane Lockhart Glassco (nee Gordon) brought awareness of aboriginal communities, ideas and projects from the North to the attention of the philanthropic community. Her keen mind and passionate nature gave her voice on improving education in Canada, as well as strengthening our sovereignty over Canada's water and northern borders, to better protect both natural resources and aboriginal rights.
"Jane shaped one of the best known and long-lasting philanthropic foundation legacies in this country. She never wavered in her commitment to the north and its people, and showed a keen interest in what people on the ground, in the communities, had to say, not in what the experts and political leaders had to say. Way, way, ahead of the curve in the way she thought about social change" said James Stauch, former vice-president of The Gordon Foundation, who worked alongside Jane for many years.
Along with her dedication to the North through The Gordon Foundation, Jane helped found Tarragon Theatre, contributing her instinct for spotting fine writing by then-unheard of Canadian playwrights, and pioneering Pay What You Can matinees, thereby making quality theatre more accessible to all Canadians.
She then moved into journalism, breaking a front page environmental story about Scarborough housing developments built knowingly over an abandoned nuclear waste dump.
At the CBC, she was a brave and tenacious investigative reporter and producer, first for Marketplace, and then as a producer of award-winning stories for Wonderstruck. Jane showed her passion for Canada and for people in her documentary series 'Our Stories', focussing on the positive impacts on Canadian life made by so many individuals from different immigrant and aboriginal groups. Jane was probably most proud of her work as an activist and environmentalist.
Jane passed away peacefully at her home on April 28, 2010, surrounded by her family and friends.
Following her passing, The Gordon Foundation honoured Jane by launching the Jane Glassco Northern Fellowships, whose purpose is to help link young northerners with support to build their own futures and amplify their voice on public policy issues.
She showed true stewardship of the land in transforming her family farm, protecting over 300 acres of what was once eroded and abandoned fields into woodlands, meadows and wetlands which now form the core of the Oak Ridges Moraine Land Trust. She was given the 2007 Charles Sauriol Environmental Award by Robert Kennedy Jr. in recognition of her conservation gift to the people of Ontario.
Jane lived many roles in life: daughter, sister, mother, grandmother, mother-in-law, sheep farmer, wild "flower child" and surrogate family to many, many friends. She embraced the world in many ways, from her early passion to be a doctor, to her astounding efforts in theatre, journalism, filmmaking and community activism. Her evolution into an organic lamb farmer, environmentalist and activist/ philanthropist was a beautiful synergy of her passions. Throughout her life she was a mentor who inspired innovation & compassion, taking risks and showing respect.
Everyone who came to know her was touched by her colourful character, compassion, love, and unabashed honesty, wily mischievousness, unforgivable humour and her reverence for art, life and the natural world and the need to protect it. And trudge around in it a bit.