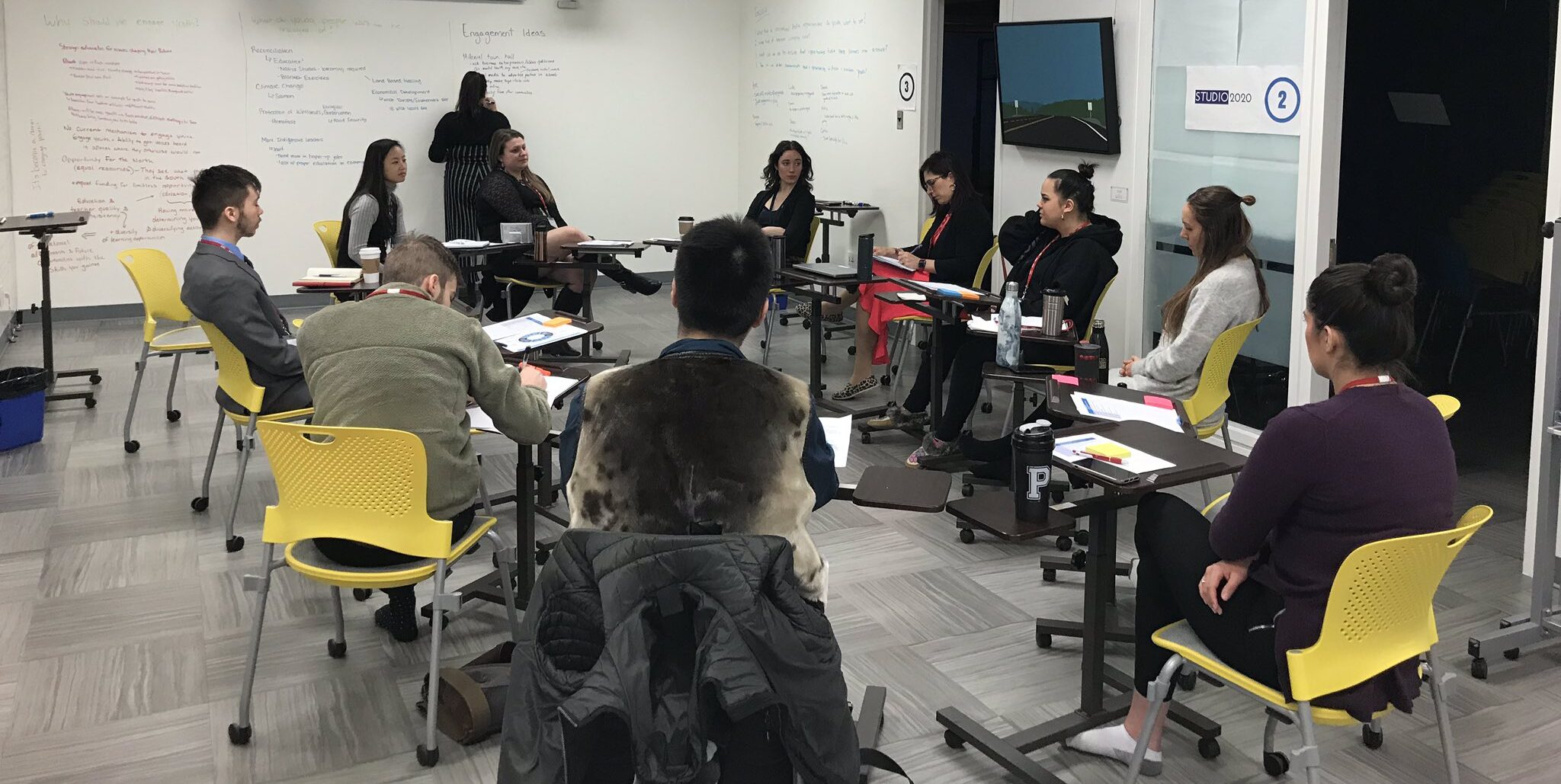 ---
"…I learned many things that allowed me to strengthen and improve my knowledge of how policies are developed, work and continue to affect the lives of people not only in Canada but also all over the world." – Lilly Parr, Nunavut Sivuniksavut student.
Hackathons are generally associated with groups of computer programmers developing leading-edge software. Recently, the model has been adapted by public, private, and non-profit organizations as an effective, creative and collaborative way to generate innovative solutions to pressing issues.
Policy hackathons, in particular, come out of a growing desire to decentralize policy-making, ensure citizen involvement, and tap into creative ideas outside of government.
Hackathons allow diverse groups of people – including community members, local experts, organizations, government, youth, and policymakers – to brainstorm ideas, discuss issues affecting their communities, and develop tangible policy recommendations. They also provide hands-on learning and inspire people to contribute to policy development.
The Gordon Foundation has held three Northern Policy Hackathons (NPHs), as a response to a desire by northerners to be more involved in developing new federal policies for the North, and to improve existing policies.
"Northerners must be leaders in setting the policy agenda for Canada's North and central in identifying and implementing policy solutions … I'm excited that the Gordon Foundation has created this policy hackathon toolkit because it demystifies the policymaking process and empowers people who care about Northern policy issues to play a meaningful role in policies that impact the North." Dr. Jennifer Spence, Adjunct Research Professor with the Department of Geography and Environmental Studies and an instructor with the Northern Studies Program, and Executive Secretary of the Arctic Council's Sustainable Development Working Group.
Testing the Hackathon toolkit
Following the success of the model, Northern Policy Hackathon participants wanted to bring it to their communities. As a response, The Gordon Foundation developed a toolkit on the model. At the beginning of March 2020, we tested the implementation of the toolkit in two different scenarios.
Firstly, Global Affairs Canada (GAC) tested the model during a mini-hackathon with northern youth, as part of a larger meeting with Canada's Arctic Council Advisory Committee.
"We were seeking a creative way to engage youth and through this toolkit, were able to adapt the policy hackathon model to engage youth participants on their ideas surrounding youth engagement in Canada's international Arctic affairs." Global Affairs Canada
GAC convened youth representatives from member organizations, including Canadian-based Indigenous Permanent Participant Organizations to the Arctic Council and representatives of the territorial governments, Newfoundland and Labrador, Quebec, and Manitoba.
Youth shared ideas and engaged in discussions around how to engage northern youth in international circumpolar affairs. The recommendations proposed by the youth aim to feed into a larger strategy that will be launched by the federal government later in 2020.
"I really enjoyed the format of our discussions and felt like my input was well received at all times." Kim Mathieu, Participant at GAC Mini-Hackathon.
Carleton University also tested the model during a policy course of their Master's program in Northern Studies. Carleton students facilitated a hackathon on northern housing with Inuit students at Nunavut Sivuniksavut.
The interactive experience demystified policy, and gave the students a better understanding of the importance of citizen engagement in government policy-making, and that they have a role to play in contributing their ideas to northern policy issues.
"It is so much different from learning about policies on paper and how they may or may not work, versus learning from individuals who grew up knowing this experience first-hand…" Katherine MacNeil, Carleton University student.
Moving online
Currently, in-person hackathons are not possible.
People are looking for innovative ways to contribute to policy discussions online, so citizens can share ideas, brainstorm, and talk about new ways of doing things.
Providing a space where all citizens can engage in the policy-making process is exactly what's required, and so The Gordon Foundation has provided some ideas on how to adapt policy hackathons online in the toolkit.
Access The Gordon Foundation's Northern Policy Hackathon toolkit and if you're interested in running an online policy hackathon, let us know!
"Policy hackathons involve actual community participation and can be used as a tool for increasing self-determination in the north."  Jeffrey Dorans, Carleton University student.