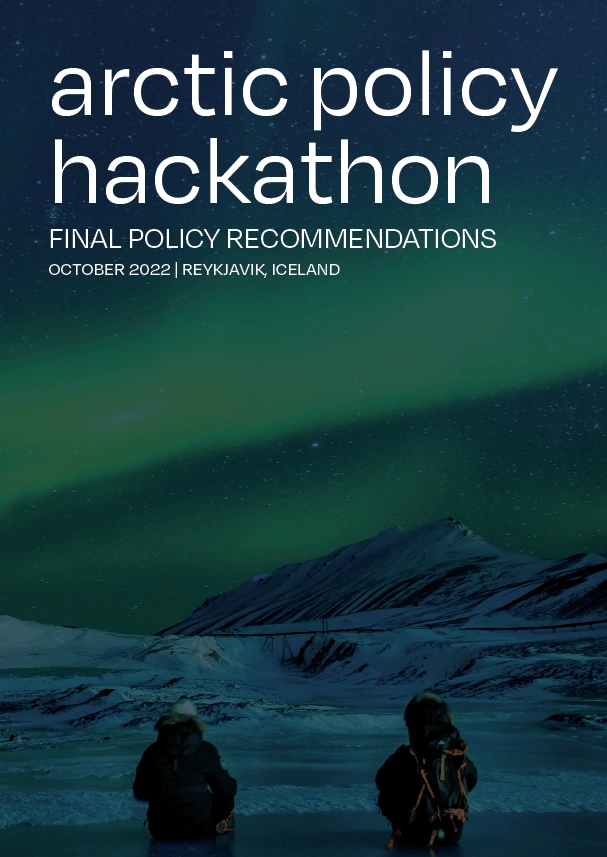 Arctic Policy Hackathon Policy Recommendations
The first-ever Arctic Policy Hackathon took place on the 11th and 12th of October 2022, in Reykjavík, Iceland.
The hackathon saw new leaders from Arctic Indigenous and local communities in northern Canada, Greenland, Sápmi, Finland, Iceland, Sweden, and Alaska exchange ideas, challenge each other, and create solutions over two days of intense discussions.
Organized by The Gordon Foundation, the Canadian International Arctic Centre, and the Arctic Mayors' Forum, the hackathon focused on food sovereignty, defined as "the right of peoples to healthy and culturally appropriate food produced through ecologically sound and sustainable methods, and their right to define their own food and agriculture systems".
Read the Arctic Policy Hackathon Policy Recommendations.
Policy hackathons bring people together to discuss policy issues and create tangible, actionable solutions. Arctic Policy Hackathon participants were: 
Alyssa Carpenter (Western Arctic, Canada) 
Anja Márjá Nystø Keskitalo (Sápmi/Norway) 
Betty Siorak (Greeland) 
Daniel Smirat (Sweden) 
Enni Similä (Sápmi/Finland) 
Harmony Jade Sugaq Wayner (Alaska) 
Hörn Halldórudóttir Heiðarsdóttir (Iceland) 
Jeremy Ellsworth (Canada) 
Laura Suorsa (Finland) 
Máni Þór Magnason (Iceland) 
Nivi Rosing (Greenland) 
Nolan Qamanirq (Canada) 
Patricia Johnson Castle (Canada) 
Sam Schimmel (Alaska)