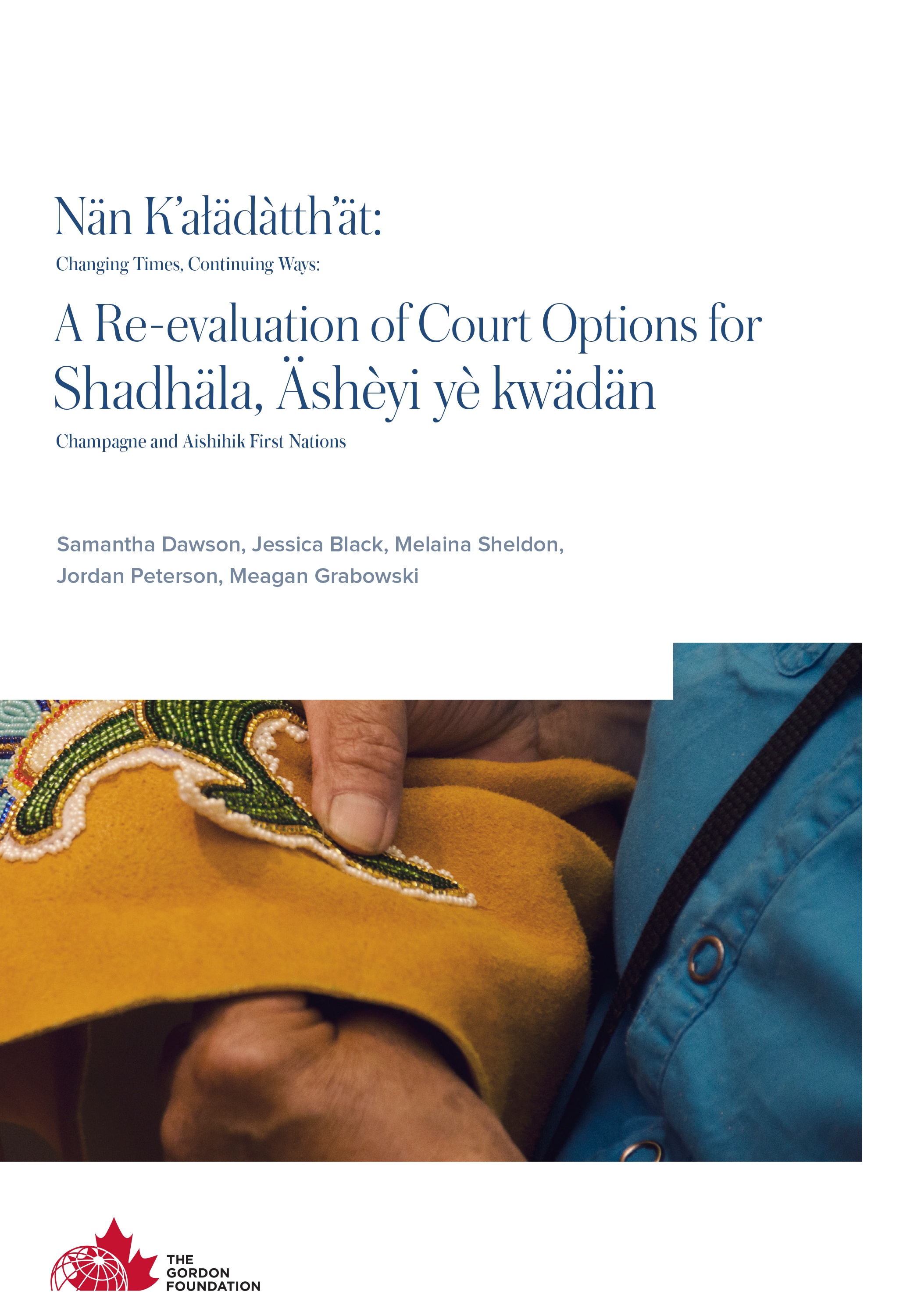 Nän K'ałädàtth'ät: A Re-evaluation of Court Options for Shadhäla, Äshèyi yè kwädän Changing Times, Continuing Ways: Champagne and Aishihik First Nations
The Jane Glassco Northern Fellowship is a policy and leadership development program that recognizes leadership potential among young northern Canadians who want to address the emerging policy challenges facing the North. The two year long program is built around four regional gatherings and offers skills training, mentorship and networking opportunities.
---
Samantha Dawson
Samantha Dawson is a citizen of the Selkirk First Nation, Yukon and is a graduate of Allard Law, UBC with a dual specialization in Aboriginal law and social justice. She currently practices criminal defence law as an articling student in Vancouver, continuing her research of justice issues and how they pertain to Indigenous peoples, particularly high incarceration rates. Samantha has also volunteered with a number of organizations including: the Assembly of First Nations, The Native Women's Association of Canada, the Yukon Aboriginal Women's Council, the UBC Indigenous Law Student's Association and the Canadian Association of Journalists. Samamtha is grateful to the Champagne and Aishihik First Nations for sharing their history with our group in
preparation for this work.
---
Jessica Black
Jessica Black is a Nunavummiut from Iqaluit. Jessica has spent her career so far imbued within the field of justice. She is currently residing in Victoria, B.C., while she completes a juris doctor at the University of Victoria, but her home and heart remain in the North. Her dream is to practise environmental and indigenous law in a way that advocates and contributes to the arctic and its peoples. She is passionate about circumpolar affairs, complex policy issues, art, and loves surfing and cycling.
---
Melaina Sheldon
Melaina Sheldon is of Polish/Ukrainian, Southern Tutchone and Inland Tlingit descent of the Deisheetaan (Beaver) Clan from Teslin, Yukon Territory. As an alumna of the Jane Glassco
Northern Fellowship 2015 cohort Melaina completed her fellowship with a focus on crime prevention and relationship-building between First Nations people and law enforcement officers, combining her passion for justice with a deep-seated belief in the power of theatre to effect social change. She currently sits as a member of the Yukon Police Council and as a clan representative on the Teslin Tlingit Justice Council.
---
Jordan Peterson
Jordan Peterson was raised in Aklavik, is of Gwich'in, Inuvialuit, Scottish and Swedish ancestry and currently resides in Inuvik. He has dedicated his life to his communities and working with Gwich'in youth, as he did in his former role as the Community Development Officer for the Gwich'in Tribal Council. Jordan has held a number of board positions in Inuvik and is currently appointed as a Board Member for Gwich'in Council International. He has lived and worked all over Western Canada in a number of industries, but found his true calling when given the chance
to work for and with his people. Jordan was elected Deputy Grand Chief/Vice President of the Gwich'in Tribal Council in 2016.
---
Meagan Grabowski
Meagan Grabowski was born in Dawson City, raised in Whitehorse and continues to live in the Yukon Territory. She completed a B.Sc. in Natural Resource Conservation and an M.Sc.
in Zoology at the University of British Columbia. With the Jane Glassco Northern Fellowship, Meagan provided policy recommendations to Yukon Government on modernizing
the Yukon Scientists and Explorers Act to better co-manage the granting of research licenses with Yukon First Nations. She is interested in the role of science policy in self-determination
for Yukon communities, particularly as it relates to climate change adaptation and equitable economic development.