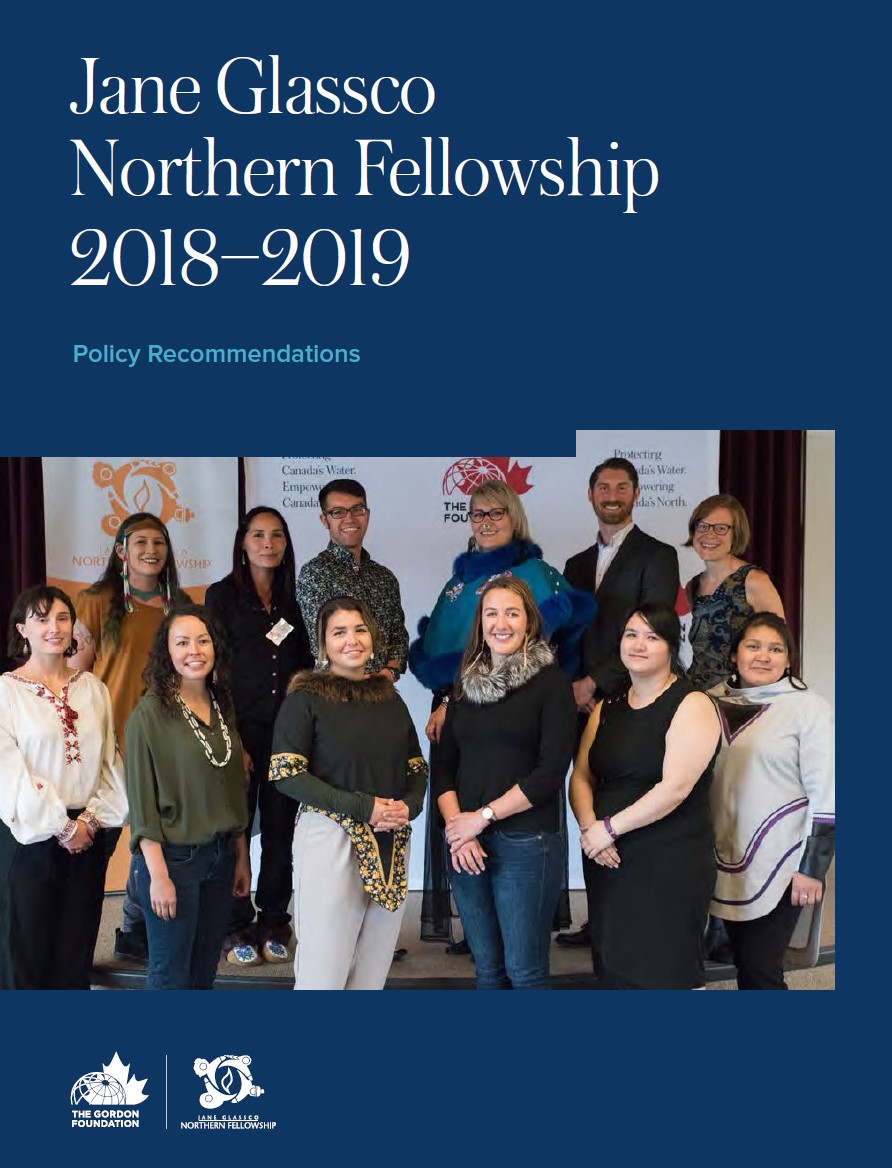 Jane Glassco Northern Fellowship 2018-2019: Policy Recommendations
The Gordon Foundation has published a compendium of public policy papers developed by the 2018-2019 cohort of Jane Glassco Northern Fellows. 
The compendium provides an accessible resource of policy recommendations developed by and for the North. It includes individual public policy papers and three group papers.  
The compendium provides innovative northern solutions and opportunities for change, including ways forward for addictions programming, engaging communities in land claims agreements, equity in education, community controlled education, supporting mental health, deregulating and empowering language teachers, incorporating traditional knowledge and values in government structures, creating ethical spaces for on-the-land learning, and rethinking modern treaty-making.  
This compendium amplifies the voices of emerging northern leaders and provides a key resource for northern communities, governments, and organizations seeking solutions for an ever-evolving Canadian North. 
The Gordon Foundation is a charitable organization dedicated to protecting Canada's water and empowering Canada's North. Since 2010, The Foundation's Jane Glassco Northern Fellowship has been providing northerners aged 25 to 35 with a unique opportunity to influence change in the North by participating in an 18-month policy and leadership development program. 
Fellows develop public policy research that addresses some of the most pressing issues facing northern communities. As such, Fellows are sought after as experts and advisors to inform governments, and present their policy research at local, regional, national and international events.  
---
Meet the Fellows and download their individual policy papers: 
Ashley Carvill
Turning to Traditional Processes for Supporting Mental Health
Chloe Dragon Smith
Creating Ethical Spaces: Opportunities to Connect with Land for Life and Learning in the NWT
Don Couturier
Negotiating the Dehcho: Protecting Dene Ahthít'e Through Modern Treaty-Making
Julianna Scramstad
Learning to Listen: On Racism and Power in Yukon Education
Marjorie Kaviq Kaluraq
Nunami Ilinniarniq: Inuit Community Control of Education through Land-based Education
Tina Piulia DeCouto
Uncomfortable Inuk – Exploring Inuit Qaujimajatuqangit
Killulark Arngna'naaq
Deregulate and Empower Language Teachers
Heather Bourassa
Creating the Education That Matters: Enhanced Engagement with Land Claim Agreements
Kelly Panchynshyn
Accounting for our Plant Citizens: Proposed Collaborative Approaches for Supporting Wild Plant Harvest in Whitehorse, Yukon
Kristen Tanche
Ways forward in addictions programming in Fort Simpson Northwest Territories
Dene GogǫndıéVoices of the People
---
Download the cohort's three Group Papers:
Balancing Worldviews: Climate Change Solutions in Canada's North
By Chloe Dragon Smith, Tina Piulia DeCouto, Ashley Carvill
Language, Community and Legends in Post-Secondary Education
By Kristen Tanche, Luke Campbell, Julianna Scramstad, Hilda Snowball
Realizing Indigenous Law in Co-Management
By Killulark Arngna'naaq, Heather Bourassa, Don Couturier, Kaviq Kaluraq, Kelly Panchyshyn
---
For more information or to contact past or present Jane Glassco Northern Fellows please contact:
Gordon Shallard-Brown
Communications Manager
The Gordon Foundation
[email protected]
416.601.4776 ext. 230