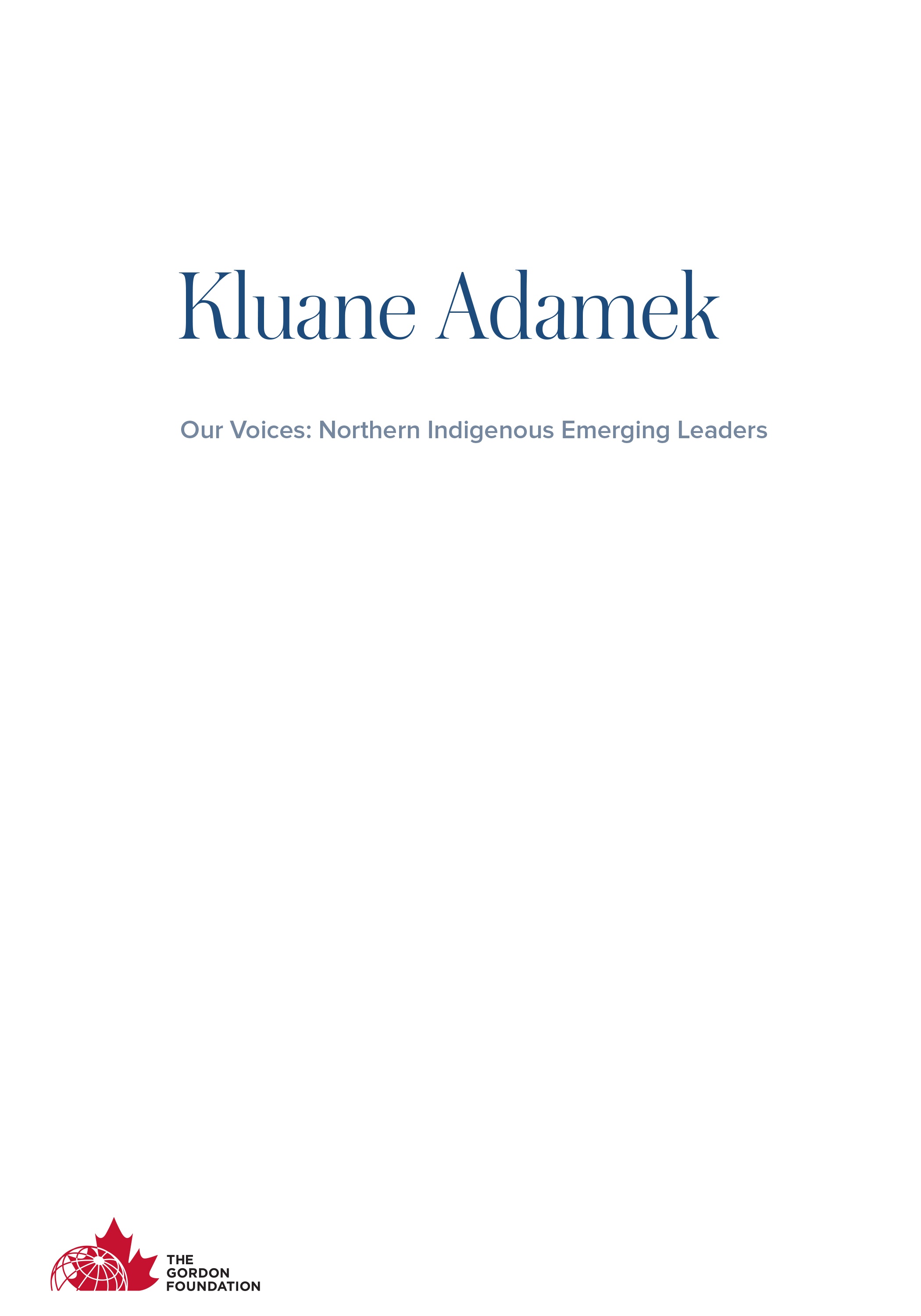 Our Voices: Northern Indigenous Emerging Leaders
Kluane Adamek has experience living
in rural, urban, northern and southern
communities. She is a graduate of Carleton
University, fluent in English and French and
continues to learn her traditional languages,
Southern Tutchone and Tlingit. Currently,
Kluane is working with the Assembly of First
Nations in the role of First Nation liaison
officer and advisor for the Office of National
Chief Shawn A-in-chut Atleo. Kluane comes
from a diverse background – Indigenous
and non-Indigenous – which she believes
has given her the ability to view and analyze
our world from different perspectives.
On her father's side, she is of Tlingit and
Southern Tutchone First Nation ancestry,
and on her mother's side, German and Irish
descent. A citizen of the Kluane First Nation,
Yukon Territory – her traditional name is
Aagé, and she comes from the Dakhl'aweidí
– Killerwhale Clan, which falls under the
Eagle moiety.
Kluane feels most at home in Yukon. She
believes her values and abilities have been
tremendously shaped by her experience
working with community organizations
such as the Skookum Jim Friendship
Kluane Adamek
Centre, Council of Yukon First Nations,
and the Aboriginal Healing Foundation.
Kluane pursues cultural activities as often
as she can while in Ottawa, traveling and
at home in Yukon. She dances traditionally
and is a member of the Dakhká Khwáan
Dancers, Inland Tlingit Dance Group. Kluane
continues to serve as a board member for
the Kluane Corporations, which focus on
economic and business opportunities for
the citizens of Kluane First Nation.
For the duration of the fellowship,
Kluane will be focusing on education
in the North, and in particular in Yukon.
Education is the foundation for success
and for students to be truly successful they
must see themselves positively reflected in
their environments. Language, culture and
identity are an important part of learning,
and students need to be supported in
this learning process. Kluane will work to
identify successful curriculum delivery,
programming and student success models
while working with First Nations, Elders,
schools, communities, governments and
education stakeholders.