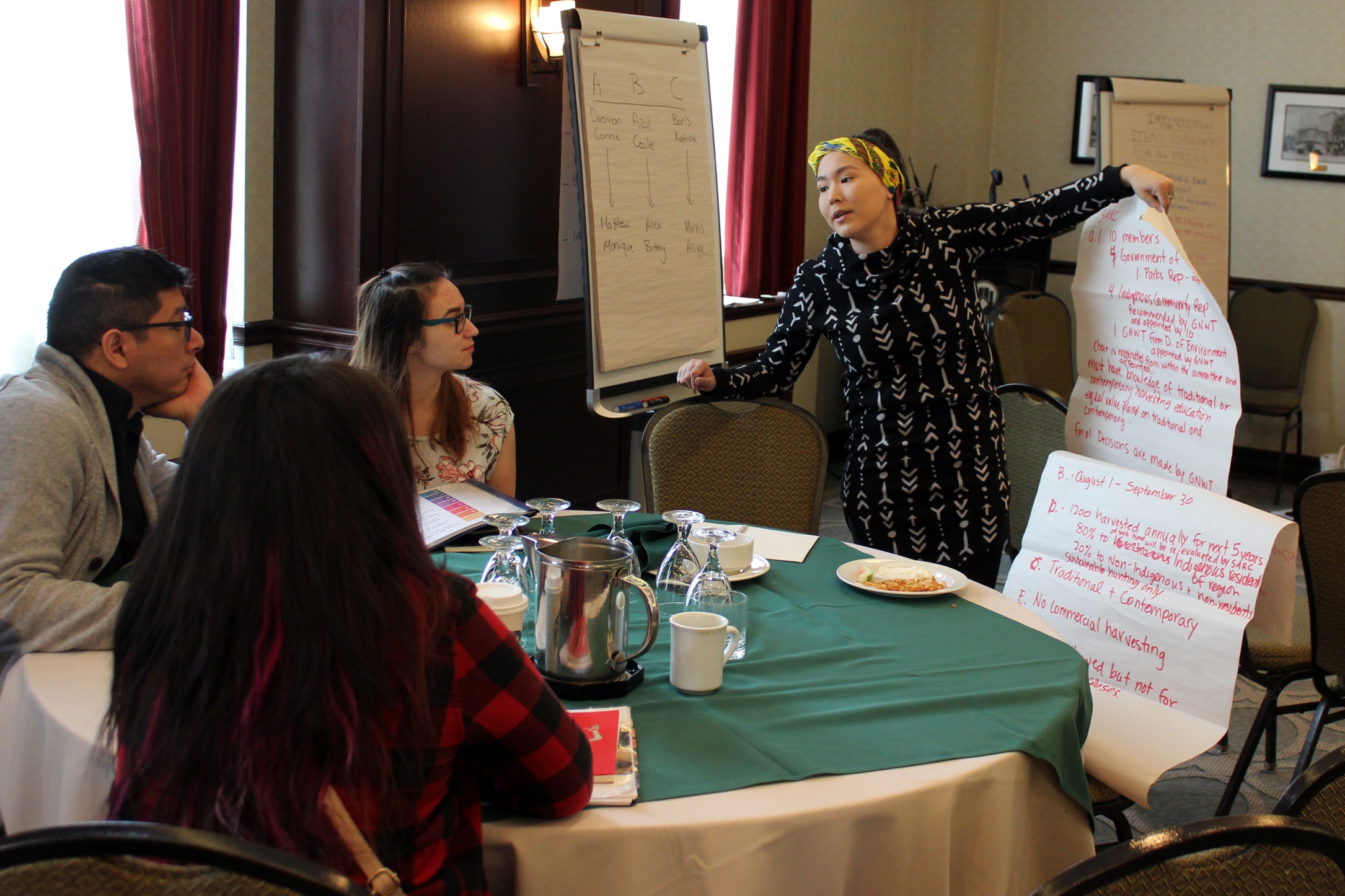 Treaty Training is Vital for Indigenous Youth
This article was originally published in Policy Options on May 9th 2019.
The next generation of leaders needs a knowledge transfer. Negotiation simulations are proving invaluable.
The federal government has said that no relationship is more important than the nation-to-nation relationship with Indigenous peoples. A key part of rebuilding this relationship is having Indigenous leaders at the table to determine their own futures. With the next generation of Indigenous leaders set to inherit leadership roles, it is imperative that they have the education and training to secure their futures, which includes learning about their treaties.
Knowledge transfer is key.
However, there is an increasing knowledge gap between emerging leaders and the treaty negotiators who came of age in the 1970s. Work must be done to engage next-generation Indigenous leaders about the importance of treaty negotiations and implementing those treaties, and the role they need to play in them.
Since 1975, 26 modern treaties have been successfully negotiated, providing Indigenous ownership of more than 600,000 square kilometres of land, almost the size of Manitoba. Many more agreements will be signed in the coming years, defining land rights of many more Indigenous peoples and creating paths for self-determination.
Emerging leaders need to get involved so that they understand the spirit and intent of the hard-fought treaties. This knowledge is passed down orally from those at the table. Without it, the nuances of the agreements and the way they were meant to be interpreted risk being lost with the passage of time.
Many Indigenous emerging leaders have grown up in communities and Nations that have land claims agreements and/or self-government agreements but they don't necessarily have the context or experience to ensure that the agreements are being upheld or properly amended. A lack of knowledge could jeopardize gains in areas such as resource rights, self-governance and environmental stewardship.
The legacy, process and impact of historic and modern treaties are important knowledge for Canadians and next-generation Indigenous leaders who will be implementing agreements and negotiating their own land claims or self-government agreements.
The first Canada-wide Treaty Negotiation and Implementation Simulation
Over three days in Ottawa at the end of February, 17 next-generation Indigenous leaders from Quebec, British Columbia, Northwest Territories, the Yukon and Nunavut participated in a treaty negotiation and implementation simulation, which was the first to include several Indigenous groups and Nations. The Gordon Foundation collaborated with the Land Claims Agreement Coalition, treaty negotiators and experts to run the event.
On the first day, participants sat with four negotiators from the Yukon, Northwest Territories and British Columbia along with a representative from the federal government, a legal expert and an academic. Participants listened to their experiences negotiating and implementing land claims and self-government agreements. They also learned about being on the federal government side, and about different career paths they can take to get involved in the implementation of their agreements. Participants were inspired by stories of determination and perseverance, and gained perspective to prepare for their own first experience through the simulation.
The simulation started on the second day with the negotiation of a section of a mock treaty dealing with wildlife harvesting and management. Participants had to come to an agreement on how to harvest and manage species that were possibly at-risk. On the third day, they changed groups and negotiated a plan for implementing the mock agreement developed by another group. In doing so, they experienced a common real-life challenge where high turnover of negotiating teams makes for a slower and complicated implementation process.
Throughout the simulation, everyone had a turn representing a negotiator from the First Nation and federal or territorial government, and had to put himself or herself in the shoes of all parties and explore different perspectives.
Participants were guided throughout the process by a negotiator who was present at each negotiating and implementing table. A legal expert gave advice to all groups. After the simulations each day, debriefings were held so everyone could reflect on the experience.
There were many lessons learned. The simulation was effective in building intergenerational connections between negotiators and new leaders, and in sharing complex information through a stimulating and experiential way. The negotiators found that the simulation reflected the realities that Indigenous peoples live with when the Crown imposes constraints in a modern treaty context. It also tested the participants in many ways. They had to persevere through tough discussions and stalemates. They had to learn to be well-prepared, creative, patient and try diverse strategies and practices. They also had to mediate through differences in their own teams and with other parties to achieve their own visions.
At the end, participants were highly enthusiastic about getting involved in implementing agreements, and wanted to learn more about their own land claims and self-government agreements. The experience showed the participants that this is important and exciting work, that they, too, can make a difference, and that there is a role for them.
They asked that the model continue in its Canada-wide form and be replicated in communities and in other settings such as schools.
Fostering experiential learning
The simulation model is one effective and innovative way of engaging emerging leaders in the treaty process, and it has sparked a growing demand for more hands-on and experiential learning about treaties. An adaptable and a publicly accessible toolkit would be an excellent resource for interested groups. Also, sessions could be provided to train community members how to run a simulation, also known as train-the-trainer sessions.
Funding could be secured through partnerships between Indigenous leadership, various levels of government and the philanthropic sector. Further, it would be useful to document and share other treaty simulation models so that communities could benefit.
There are resources across Canada that focus on treaties, some of which are documented in the Treaty Negotiators of the Future report. The Land Claims Agreement Coalition lists others on its website. However, there is no mandatory treaties-based education, and not all regions have region-specific educational resources on treaties.
Other experiential and innovative learning tools are needed. A podcast on treaties across Canada, for example, could provide for a broader transfer and sharing of knowledge across communities about diverse experiences, limitations, strategies and solutions. Internships are another avenue that provides emerging leaders the opportunity to be present at the table, partake in conversations, be active in research and have access to the negotiation and implementation process. Internships would allow first-hand learning about the creation and realization of a land claims agreement and/or self-government agreement.
With a significantly large and growing young population, next-generation Indigenous leaders have an important role to play in implementing their land claims and self-government agreements. However, governments also have a role. Federal, provincial, territorial, and Indigenous leadership and governments should make it a priority to invest in Indigenous youth and next-generation leaders.
Additionally, with the federal government's focus on youth and skills in the 2019 budget, funding for experiential learning programs such as simulations or treaty-related internships should be a priority. Indigenous leadership should reach out to Indigenous youth by sharing their knowledge and speaking to them about the importance of treaties.
Whether it is a simulation, podcast or internship, there is no better time to invest in much-needed knowledge transfer. If we are to move forward as a country and truly address reconciliation issues, we must also think of the future leaders who will inherit these land claims and agreements. Youth are the future, and simulations have shown us they're willing and able to contribute to the betterment of society now. We need to teach them how.