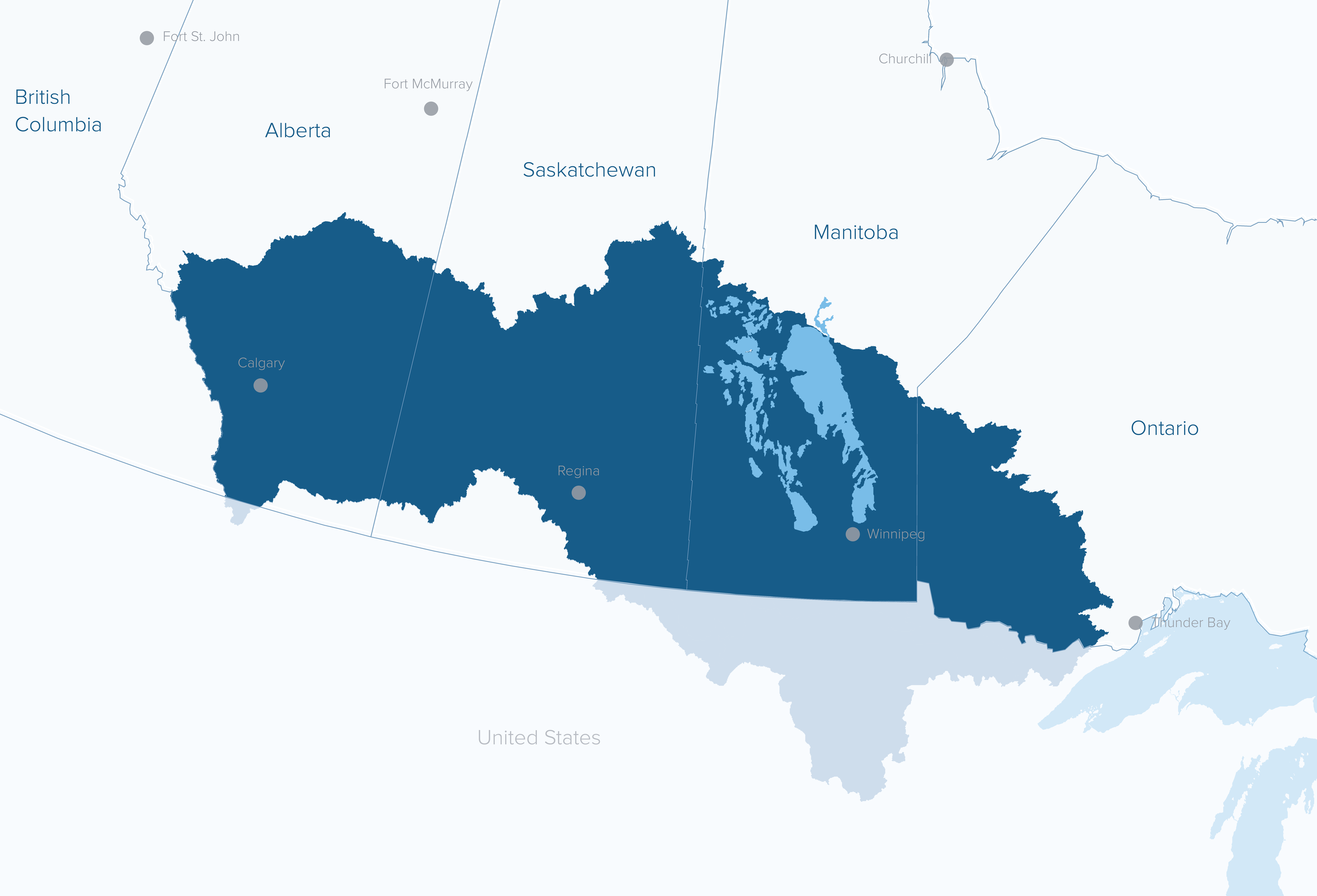 Game changer: blockchain technology making open-access information available so anyone, anywhere can get a clear picture of freshwater health
This article was originally published in the Hill Times on April 15, 2019.
To most, terms like "blockchain" and "open data" are likely only buzzwords reserved for Silicon Valley and cryptocurrency. But to the millions of Canadians living in and around the Lake Winnipeg watershed, these words will change how decisions are made.
While Lake Winnipeg is only the sixth largest freshwater lake in Canada, its basin is home to seven million people spread across four Canadian provinces and four American states.
The Lake Winnipeg Basin exemplifies a fundamental question facing Canadian water governance today: how can Canadian communities make effective, evidence-based decisions regarding our freshwater when our watersheds are so geographically diverse and span multiple jurisdictions?
Here's where buzzwords become action. What if innovative blockchain technology could be used to manage and help solve some of our country's most complex freshwater issues?
Until recently, there has not been a central data hub for information on the health of local watersheds that is accessible to the public, researchers or governments alike. Organizations have done their own monitoring and research while governments have done theirs. Too often data is being managed in ways that make collaboration difficult and expensive.
Canadians, meanwhile, often don't see the results. But this can change.
The Gordon Foundation, in collaboration with our partners, has developed an online open data platform, DataStream, to bring information about local rivers, lakes and wetlands together in one place so that anyone, anywhere can get a clearer picture of freshwater health. This open access data provides a solid foundation for informed decisions and policy. Users can access, store and share full water quality datasets collected across thousands of monitoring sites in hub regions across Canada — all through this powerful platform.
We began in the Mackenzie Basin in partnership with the Government of Northwest Territories. This success led to the launch of Atlantic DataStream in 2018, with the Atlantic Water Network. Our third hub since launching in 2016 came online last week:  Lake Winnipeg DataStream, which is being rolled out regionally in collaboration with the Lake Winnipeg Foundation.
Leveraging blockchain technology, DataStream provides a level of security and transparency that does not exist in any other known system for managing water data in Canada. A "digital fingerprint" allows users to independently track and verify any changes to datasets over time and gives assurances that data is authentic. Fifty organizations have made their data openly accessible and more importantly, this includes actors from the grassroots to the provincial and federal levels. Our mission is to promote knowledge sharing across watersheds and advance collaborative decision-making, so our waters remain healthy for generations to come.
Today, DataStream is much more than a piece of technology. It is a comprehensive initiative with a passionate following of water champions across Canada who are looking to translate data into action.
As the report, A Snapshot of Community Based Water Monitoring in Canada, notes, initiatives like DataStream "are filling information gaps" while "following scientifically-rigorous protocols, having their data analyzed by professional scientists, and addressing a diversity of community concerns relating to the health of freshwater resources." DataStream is a game changer.
For First Nations like Mikisew Cree First Nation interested in how water quality changes across jurisdictional boundaries, Mackenzie DataStream greatly reduces the upfront costs of tracking down and standardizing datasets. Meanwhile in Atlantic Canada, a network of highly active water monitoring organizations now have the data infrastructure needed to compare notes, align efforts and effectively collaborate across watersheds. The data can also be used in a number of ways when it comes to assessing new infrastructure projects big and small. These are just a few examples that open a world of possibilities and puts power in the hands of the (water) people. With the launch of Lake Winnipeg DataStream we can't wait to see how this helps activate the data being collected in this Basin.
DataStream is addressing a large need in the management of freshwater data that The Gordon Foundation is proud to play a lead role on at the national level. Thousands of Canadians already use DataStream, which now contains more than one million unique observations. Given where we were as a country on the management of water health data only two years ago, we've come a long way. With blockchain technology and community-based partners, we'll ensure that the innovative disruptions that make our country better don't only apply to programmers in Silicon Valley.
Carolyn DuBois is director, Water Program at the Gordon Foundation where she works with partners across sectors in Canada's North.