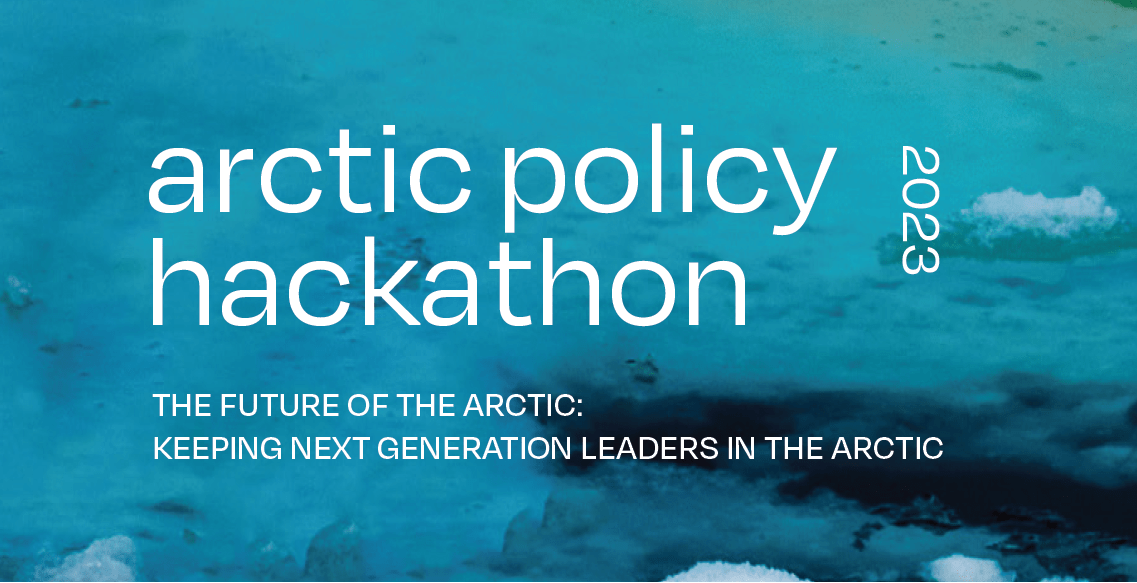 ---
What can be done to keep young people in the Arctic? That's the question new leaders from across the circumpolar North are tackling at the second Arctic Policy Hackathon in Reykjavik, Iceland.
Taking place across two intense days on October 17 and 18, policy hackathons see participants from Arctic Indigenous and local communities discuss a specific policy issue and create tangible solutions informed by their lived experience.
Organized by The Gordon Foundation, Global Affairs Canada, and the The Arctic Mayors' Forum, the policy hackathon sees Canadian participants Kristen Tanche of Fort Simpson, NWT; Ashley Carvill of Carcross, Yukon; Megan Dicker of Nain, Nunatsiavut; and Lily Maniapik of Iqaluit, Nunavut come together with their peers from Alaska, Greenland, Iceland, Finland, Sweden, and Norway.
The participants will work together and share experiences to create policy recommendations exploring how to keep the next generation of leaders in the Arctic. They will reflect on what they need to stay and thrive in their communities as well as what actions and policies need to change.
The policy recommendation will then be presented at the prestigious Arctic Circle Assembly (ACA), which takes place directly following the Hackathon. An ACA panel session on October 19 will be an opportunity to get the policy recommendations in front of decision makers from across the Arctic.
Following the Policy Hackathon, participants will return to their home communities to further disseminate their policy recommendations and drive real change.
"Youth are needed in the Arctic if communities are to continue to thrive," said Sherry Campbell, President and CEO of The Gordon Foundation. "Policy hackathons allow young leaders to use their lived experience and those of their peers from across the Arctic to create effective policy ideas that need to be shared and heard."
Background information
The Arctic Policy Hackathon participants are:
Alma Linke Nilsen (Luleå, Sápmi/Sweden)
Ashley Rae Carvill (Carcross, Yukon, Canada)
Brynjar Andersen Saus (Sápmi/Tromsø, Norway)
Eline T.O. Evjen (Bodø, Norway)
Gabe Canfield Kungunna (Kingikmiut, Alaska, USA)
Galadrielle Pommereau (Reykjavík, Iceland)
Jesse Rousu (Oulu, Finland)
Kristen Tanche (Liidlii Kue/Fort Simpson, NWT, Canada)
Lauren Leadbetter (Fairbanks, Alaska, USA)
Lily Maniapik (Nunavut, Canada)
Lotta Hagelin (Sápmi/Helsinki, Finland)
S. Maggi Snorrason (Reykjavík, Iceland)
Megan Dicker Nochasak (Nain, Nunatsiavut, Canada)
Nils Joel Partapuoli (Sápmi/Årosjokk, Sweden)
Nukarleq Ivalo Jeremiassen (Aasiaat, Greenland)
The Policy Recommendations will be presented at the Arctic Circle Assembly panel Keeping Next Generation Leaders in the Arctic: Arctic Policy Hackathon Recommendations on October 19 at 10:10 local time. Panelists are:
• Carina Sammeli, Mayor of Luleå Municipality, Sweden; Arctic Mayors' Forum.
• Stephen Traynor, Vice President of Policy, Planning, Communications and Northern Projects Management Office, Canadian Northern Economic Development Agency.
• Áslat Holmberg, President, Saami Council.
• Kristen Tanche, Arctic Policy Hackathon participant; Jane Glassco Northern Fellowship Alumni, The Gordon Foundation; Dehcho First Nations.
The Arctic Circle Assembly Panel Food Sovereignty: Where are we now? Arctic Policy Hackathon Recommendations will provide an update on progress following the first Arctic Policy Hackathon.
Moderated by Jennifer Spence, Senior Fellow, Harvard Kennedy School Arctic Initiative, speakers are:
• Lisa Qiluqqi Koperqualu, President, Inuit Circumpolar Council, Canada
• Laura Suorsa, Policy Advisor, Oulu 2026 Arctic Food Lab, Finland
• Daniel Smirat, Chair of the Municipal Assembly, Municipality of Luleå, Sweden
• Andre Moreau, Senior Advisor, Government of Nunavut, Canada
• Anja Márjá Nystø Keskitalo, Policy Advisor, Saami Council
The Gordon Foundation is a charitable organization dedicated to protecting Canada's water and empowering Canada's North.
The Arctic Mayors' Forum aims to give local governments a voice in the development of the Arctic.
Global Affairs Canada define, shape and advance Canada's interests and values in a complex global environment.