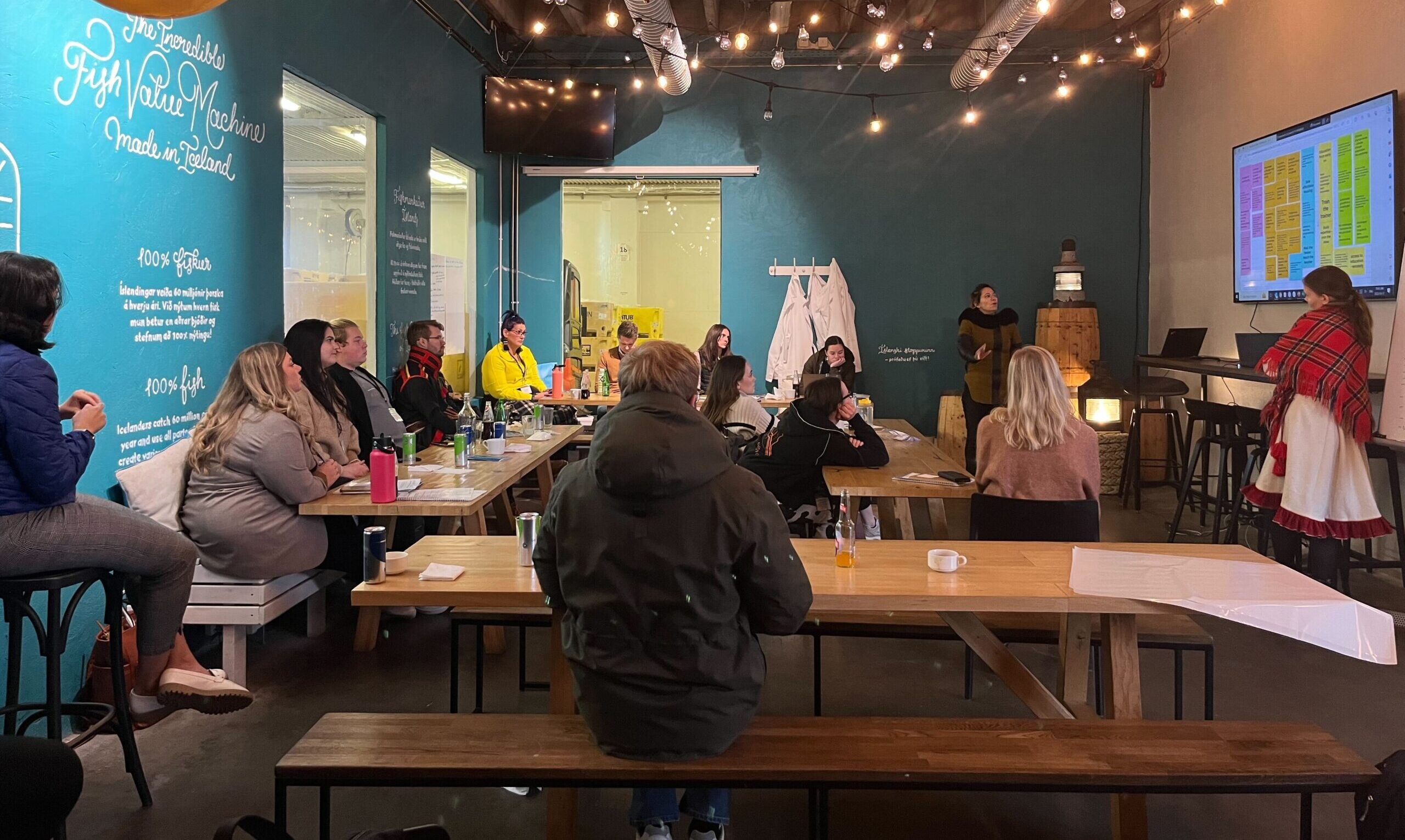 ---
Increasing diversity and inclusion, community-led climate change adaptions, and welcoming and safe tourism are just some of the ways to keep the next generation of leaders in the Arctic, according to participants at the 2023 Arctic Policy Hackathon.  
Policy Hackathons see emerging leaders discuss a specific policy issue and create tangible solutions using their lived experience.  
Organized by The Gordon Foundation, Global Affairs Canada, and The Arctic Mayors' Forum, the 2023 Arctic Policy Hackathon saw Canadian participants Kristen Tanche of Fort Simpson, NWT; Ashley Carvill of Carcross, Yukon; Megan Dicker of Nain, Nunatsiavut; and Lily Maniapik of Iqaluit, Nunavut meet with their peers from Alaska, Finland, Greenland, Iceland, Norway, and Sápmi. 
Over two intense days in Reykjavik, the 16 emerging leaders from Arctic Indigenous and local communities shared their personal perspectives and experiences about how to keep young people in Arctic communities. They worked together to create an actionable set of policy recommendations, grouped under the themes of culture and community, sustainable development, and holistic wellness. 
As well as building their policy skills, participants expanded their networks – increasing pan-Arctic collaboration now and in the future.  
They also heard from Robert Sinclair, the Senior Arctic Official and Director General of Arctic, Eurasian and European Affairs at the Government of Canada during an invigorating lunch and learn session. 
Following the Hackathon, participants Kristen Tanche and Brynjar Andersen Saus shared the policy recommendations with Arctic leaders, officials and experts on a panel at the prestigious Arctic Circle Assembly.    
Hackathon participants will disseminate the policy recommendations with their networks, organizations, leaders, and decision-makers as they return to their home communities across the circumpolar north.  
Quotes 
"Youth are vital for Arctic communities to continue to thrive," commented Sherry Campbell, President and CEO of The Gordon Foundation. "At the Arctic Policy Hackathon, young leaders saw how valuable their perspective is and that they can make change happen." 
"Our future is dependent on young people in the whole region taking on leadership roles. The next generation must guide the development of the Arctic in a sustainable way such that we respect and honor the existing natural and cultural values, while at the same time creating opportunities and contributing to solving the biggest challenges facing our societies and the world at large. We believe that diversity and inclusion are the cornerstones to keeping and recruiting the next generation of leaders in the Arctic." Arctic Policy Hackathon participants.  
Pictures are available here. 
Read the policy recommendations.
For more information and interview opportunities, please contact: Gordon Shallard-Brown, Communications Manager, The Gordon Foundation | [email protected] | 416.601.4776 x 230     
Background Information  
The Arctic Policy Hackathon took place on 17th and 18th October 2023, in Reykjavík, Iceland.  It was organized in partnership by The Gordon Foundation, Global Affairs Canada and the Arctic Mayors' Forum. 
The Gordon Foundation's innovative Policy Hackathon model brings emerging leaders together to discuss a specific policy issue and create tangible solutions informed by their lived experience. The Foundation has run three Northern Policy Hackathons and two Arctic Policy Hackathons, bringing together new leaders from across Canada's North and the circumpolar North respectively.  
Outcomes of the Hackathon include:  
Participants build policy skills 
Participants expand their networks, leading to increased pan-Arctic collaboration  
Participants gain a new model for policy development that can be taken back to their communities and organizations 
Pan-Arctic recommendations are developed and presented to key stakeholders. 
The Arctic Policy Hackathon participants were:  
Alma Linke Nilsen (Luleå, Sápmi/Sweden)
Ashley Rae Carvill (Carcross, Yukon, Canada)
Brynjar Andersen Saus (Sápmi/Tromsø, Norway)
Eline T.O. Evjen (Bodø, Norway)
Gabe Canfield Kungunna (Kingikmiut, Alaska, USA)
Galadrielle Pommereau (Reykjavík, Iceland)
Jesse Rousu (Oulu, Finland)
Kristen Tanche (Liidlii Kue/Fort Simpson, NWT, Canada)
Lauren Leadbetter (Fairbanks, Alaska, USA)
Lily Maniapik (Nunavut, Canada)
Lotta Hagelin (Sápmi/Helsinki, Finland)
S. Maggi Snorrason (Reykjavík, Iceland)
Megan Dicker Nochasak (Nain, Nunatsiavut, Canada)
Nils Joel Partapuoli (Sápmi/Årosjokk, Sweden)
Nukarleq Ivalo Jeremiassen (Aasiaat, Greenland)
The Hackathon Policy Recommendations were presented at the Arctic Circle Assembly panel Keeping Next Generation Leaders in the Arctic: Arctic Policy Hackathon Recommendations on October 19. Panelists were: 
Carina Sammeli, Mayor of Luleå Municipality, Sweden; Arctic Mayors' Forum. 
Stephen Traynor, Vice President of Policy, Planning, Communications and Northern Projects Management Office, Canadian Northern Economic Development Agency. 
Áslat Holmberg, President, Saami Council. 
Kristen Tanche, Arctic Policy Hackathon participant; Jane Glassco Northern Fellowship Alumni, The Gordon Foundation; Dehcho First Nations. 
The Gordon Foundation is a charitable organization dedicated to protecting Canada's water and empowering Canada's North. 
The Arctic Mayors' Forum aims to give local governments a voice in the development of the Arctic. 
Global Affairs Canada define, shape and advance Canada's interests and values in a complex global environment.