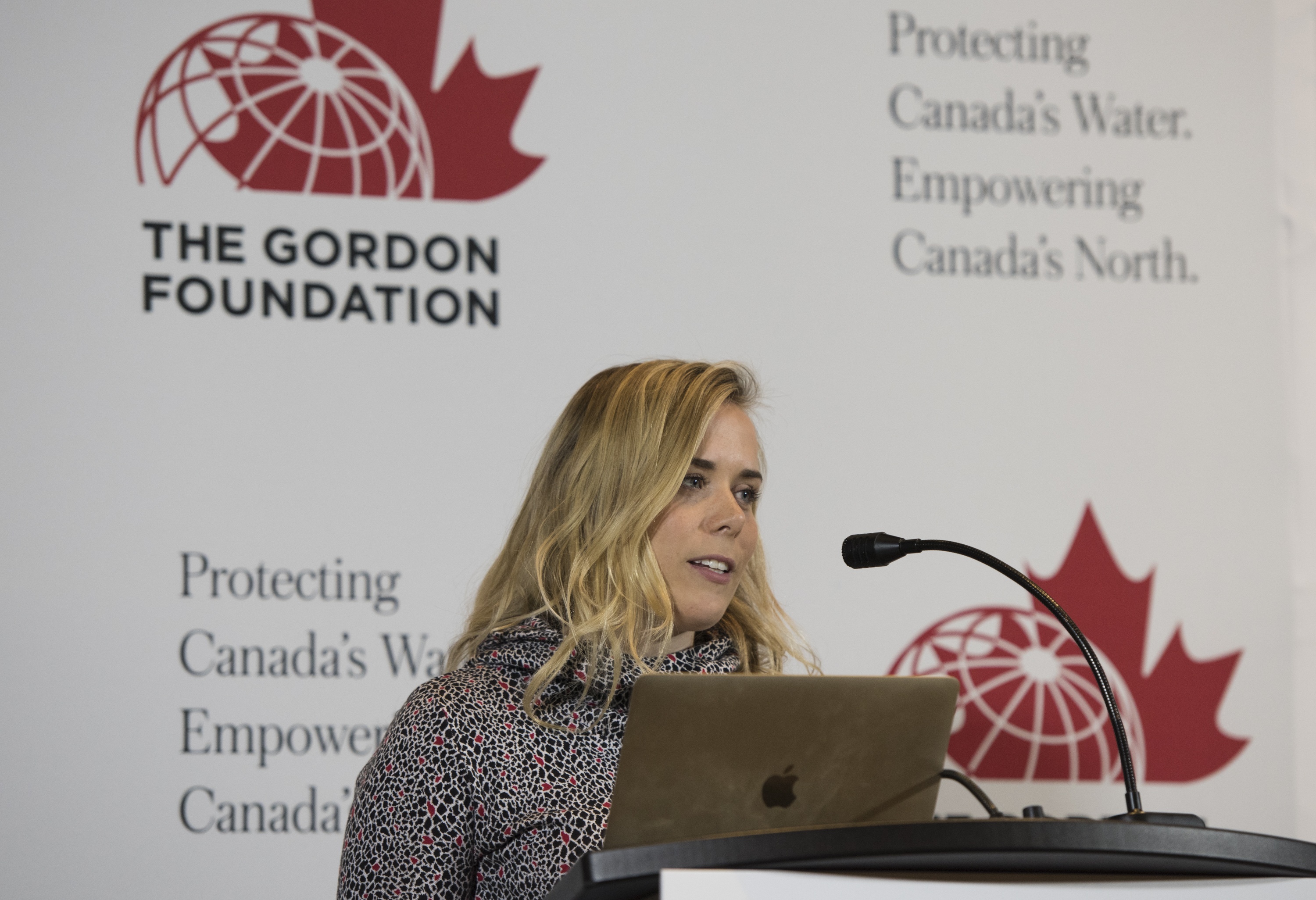 ---
Starting December 2018, Alternatives Journal published an eight-part series on the 2015-2017 Jane Glassco Northern Fellows policy papers, which address some of the most pressing issues facing the North. This blog was originally published on February 25, 2019 at https://www.alternativesjournal.ca/community/blogs/aj-special-delivery/transforming-nunavut%E2%80%99s-criminal-justice-system.
---
"The need for a new way to effectively address crime and violence rates in communities was a primary consideration in creating Nunavut," writes Jessica Black, a recent alumna of the Jane Glassco Northern Fellowship Program, in a new policy paper.
According to Black, there is a growing outcry from northern communities regarding high crime and incarceration rates, including in Nunavut.
Reported crime and incarceration rates in Nunavut are approximately seven times greater per capita than Canada's national rates[i]. Nunavut ranks second on the national crime severity index and has the highest proportion of violent crimes in the country.
For Black the numbers reflect the inability of the justice system to effectively address issues ultimately experienced by communities. Central to this experience are the impacts of colonialism and the displacement of Inuit law and policy in fundamental societal structures, such as the Nunavut justice system.
According to Black, "this displacement is an implicit value statement favouring western values which creates conflict. Such valuation and displacement frustrates Inuit and pluralistic approaches to resolving conflict and is ultimately at the root of tensions by creating trauma intergenerational impacts".
"Crime is costly," Black writes. "It is costly in the sense that it requires millions of dollars of resources and it is also costly in its inability to address trauma and victimization."
Four out of every ten dollars spent on justice in Nunavut goes towards incarceration. Black is critical of this status quo because it "perpetuates harm in many areas of society, including those outside of criminal justice, particularly for Inuit."
Black's research finds that many communities often "feel unheard or left with empty promises" within the Territory's justice system. To examine possible solutions, Black attempts to present the work and perspectives articulated by Inuit.
"In Nunavut's creation," she writes, "a formalized task force was mobilized to incorporate Inuit legal traditions and perspectives into Nunavut's new criminal justice system as a way of resolving conflict and decreasing crime. There was a sense that Inuit would finally be able to change the criminal justice system to stem the historical perpetuation of injustice felt at the hands of the Canadian system by implementing a process that is culturally appropriate and suited to Inuit Nunangat."
For Black, much of the crime in Nunavut is a symptom of larger systemic issues arising out of colonialism. To truly address over-incarceration, Black believes that policy has an important role to play but believes that for those ideas to be effective, they must address the displacement of Inuit law and policy. In this, she explores two options to move away from the status quo: delivering new rehabilitative programing through correctional facilities; and refocusing criminal justice in the Territory to better reflect Inuit culture and values.
Specifically, she believes that over-incarceration in Nunavut could be addressed in part by strengthening Inuit Piusiit – an approach that implements Inuit value systems and conceptions of justice by prioritizing rehabilitation and community-based healing over retribution, deterrence, and incarceration.
Black is a Nunavummiut from Iqaluit who has worked professionally within justice administration and formally served on the Nunavut Law Society Executive as a public representative. She recently completed a Juris Doctor of Law at the University of Victoria.
---
To read Black's full policy report as well as other policy work from the Jane Glassco Northern Fellows, please visit www.GordonFoundation.ca/resources/fellowship.
The Gordon Foundation is a charitable organization dedicated to protecting Canada's water and empowering Canada's North. The Jane Glassco Northern Fellowship is a crucial part of our mission to promote innovate public polices for the North and amplify Northern voices.
---
---
Breaking Down Colonial Barriers Through Education (Mar 4, 2019)
Transforming Nunavut's Criminal Justice System (Feb 25, 2019)
Nunavut Land Claims Agreement and Arctic Governance (Feb 11, 2019)
Waste Management And the Circular Economy of the North (Feb 4, 2019)
Keeping Aboriginal Youth out of the Correctional System (Dec 10, 2018)
Encouraging Closer Collaboration Between Scientists & Yukon First Nations (Dec 7, 2018)
Recruiting Indigenous Physicians in the NWT (Dec 3, 2018)
Highlighting Policy Proposals from the Jane Glassco Northern Fellowship Program (Nov 30, 2018)
---
[i] Black, Jessica, "Tupiq Nappaqtauliqtuq: Meeting Over-Incarceration and Trauma with Re-Centering Inuit Piusiit," Jane Glassco Northern Fellowship 2015-2017 Policy Recommendations (2018): p.34