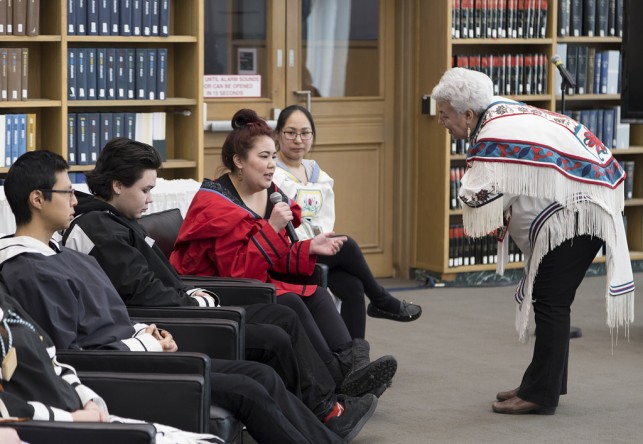 ---
Starting December 2018, Alternatives Journal published an eight-part series on the 2015-2017 Jane Glassco Northern Fellows policy papers, which address some of the most pressing issues facing the North. This blog was originally published on March 4, 2019 at https://www.alternativesjournal.ca/community/blogs/aj-special-delivery/transforming-nunavut%E2%80%99s-criminal-justice-system.
---
"Through contact with various nation-states, Inuit have experienced very similar colonial histories in which colonizers pushed assimilationist policies on them, especially in regard to education," writes Angela Nuliayok-Rudolph at the start of a new policy paper focused on decolonization through education.
Nuliayok-Rudolph is a recent alumni of the Jane Glassco Northern Fellowship program. Prior to joining the program, Rudolph worked as a teacher in her home community of Gjoa Haven, Nunavut – located approximately 1000 kilometers northeast of Yellowknife.
Her paper, "Breaking Down Colonial Borders in Inuit Nunaat Through Education," examines the need for educational curricula developed by and for Inuit.
She explores existing educational policies, programs and resources that could be utilized by Inuit to advance decolonization.
Traditionally, Nuliayok-Rudolph explains, Inuit had their own education system which was guided by the practice of inunnguiniq (to become an able human being). To achieve inunnguiniq, a person had to understand Inuit Qaujimajatuqangit (IQ), which is the traditional educational framework encompassing the principles, beliefs, skills and experiences of the Inuit world. IQ has six guiding principles:
Pijitsirniq – The concept of serving;
Aajiiqatigingniq – The concept of consensus decision-making;
Pilimakmaksarniq – The concept of skills acquisition;
Piliriqatigiingniq – The concept of collaborative relationships or working together for the common good;
Avatimik Kamattiarniq – The concept of environmental stewardship;
Qanuqtuurnnarniq – The concept of being resourceful to solve problems.
IQ principles interacted with maligait – traditional Inuit laws.
"Through the educational practices of inunnguiniq, IQ and maligait, Inuit were enabled to be valuable contributors to society, which allowed them to thrive for thousands of years in the Circumpolar North," writes Nuliayok-Rudolph.
"Education of Inuit was the epitome of colonization efforts," Nuliayok-Rudolph explains – noting that "the purpose of Inuit education during colonization was to destroy the 'Indian in the child' for the purpose of aggressive civilization."
That legacy continues. Just one in four Inuit students graduated from high school in 2011[i]. Nuliayok-Rudolph attributes this to a number of factors including the legacy of residential schools tainting parents' views of education; a lack of bilingual education options for Inuit and Inuktitut speakers; and a lack of community involvement.
Nuliayok-Rudolph zeros in on a particular cause: a lack of culturally relevant education in Inuit schools.  Although there has been progress over the past decade to incorporate culturally relevant curriculum into schools in jurisdictions like Nunavut, Nuliayok-Rudolph asserts more can be done, and more is being done. The issue lies in the colonial borders that separate Inuit from accessing those resources and services that are available in the various Inuit jurisdictions. Inuit in Canada have extremely limited access to programs and services anywhere in Alaska and Greenland, and vice versa.
A number of culturally relevant education programs and curricula currently exist. For instance, the Nunavut Sivuniksavut (NS) school in Ottawa is a success story.
Over two-years, students at NS take courses in Inuit History, Land Claims Agreements, Contemporary Issues and Inuit-Government Relations in addition to practical courses like Inuktitut, English, computers and Inuit music.
"Inuit youth do leave the NS program with a passion to build on the Nunavut dream," Nuliayok-Rudolph writes. "Not only do these Inuit youth leave passionate and empowered, but the Government of Nunavut and Inuit organizations … see the value in hiring them, because they understand the Inuit world and [its] governing structures."
Other successes include Nunavut's recently updated grade 10 social studies curriculum which is entirely Inuit and Nunavut focused. Education policies have also been put in place by Inuit organizations like Inuit Tapiriit Kanatami in Canada and Inuit Circumpolar Council Alaska that can be used to expand curriculums designed by and for Inuit.
Building on these programs and recommendations offers an exciting opportunity to decolonize Inuit education and empower the next generation of leaders.
---
To read Nuliayok-Rudolph's full policy report as well as other policy work from the Jane Glassco Northern Fellows, please visit www.GordonFoundation.ca/resources/fellowship.
The Gordon Foundation is a charitable organization dedicated to protecting Canada's water and empowering Canada's North. The Jane Glassco Northern Fellowship is a crucial part of our mission to promote innovate public polices for the North and amplify Northern voices.
---
Breaking Down Colonial Barriers Through Education (Mar 4, 2019)
Transforming Nunavut's Criminal Justice System (Feb 25, 2019)
Nunavut Land Claims Agreement and Arctic Governance (Feb 11, 2019)
Waste Management And the Circular Economy of the North (Feb 4, 2019)
Keeping Aboriginal Youth out of the Correctional System (Dec 10, 2018)
Encouraging Closer Collaboration Between Scientists & Yukon First Nations (Dec 7, 2018)
Recruiting Indigenous Physicians in the NWT (Dec 3, 2018)
Highlighting Policy Proposals from the Jane Glassco Northern Fellowship Program (Nov 30, 2018)
---
[i] P 87