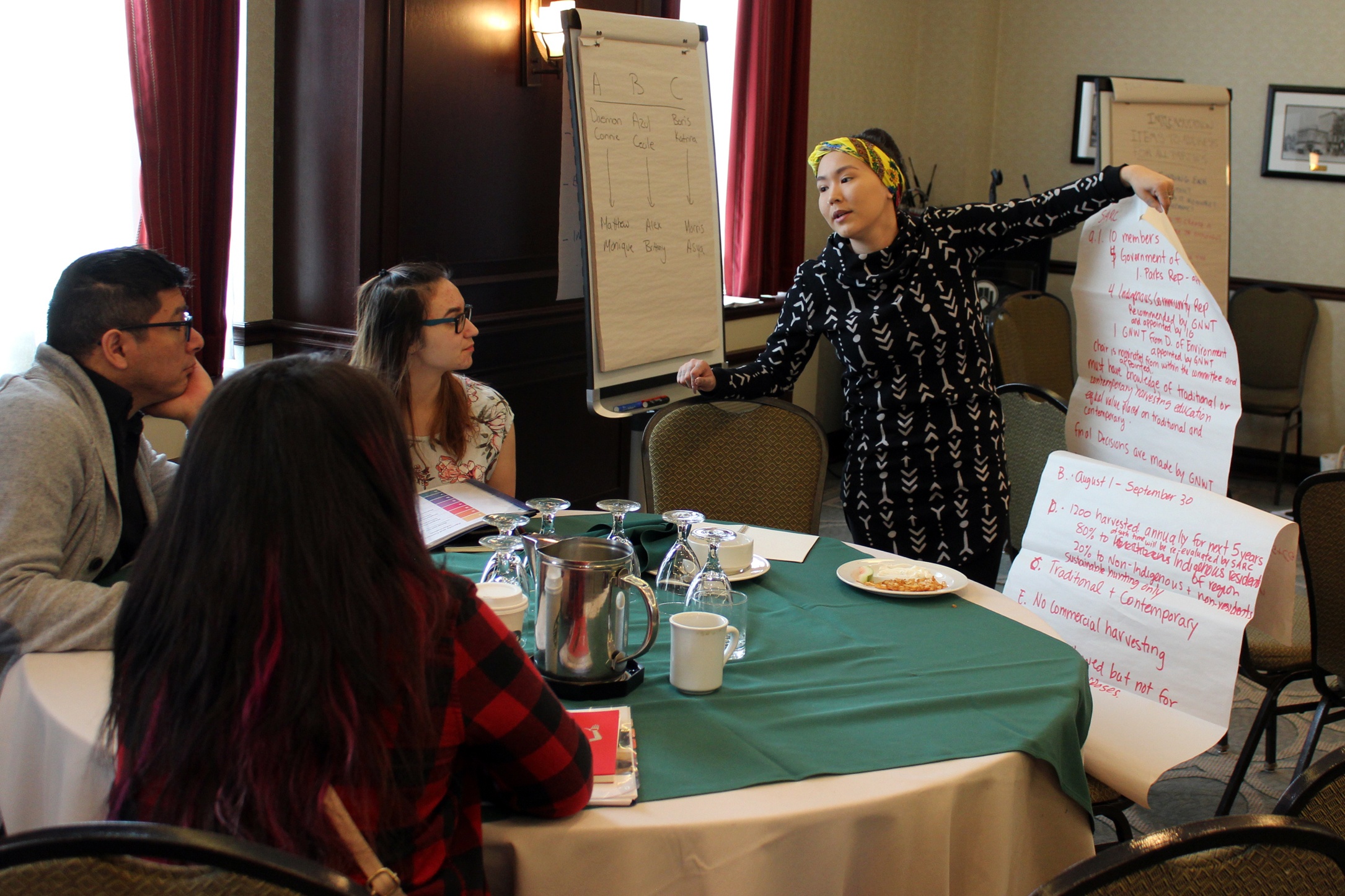 ---
"What's happening here is a transfer of knowledge" – Dr. Joseph Gosnell negotiator of the Nisga'a Agreement, March 3, 2019
---
Last week, 17 next generation Indigenous leaders took part in a unique three-day Modern Treaty and Implementation Simulation. They were joined by four treaty negotiators who, between the 1970s and 2000s, played a pioneering role in the development of a modern treaty or self-government agreement for their Nation.
Several members of the Land Claims Agreement Coalition (LCAC) selected the participants from their communities in Quebec, British Columbia, Northwest Territories, the Yukon and Nunavut. Participants ranged from 17 to 35 years of age and many hold important roles within their Indigenous government. They brought strong visions for their communities, and demonstrated dedication to expanding knowledge and skills in the modern treaty process.
Modern treaties often take decades to negotiate and are followed by a challenging implementation process intended to ensure that an agreed upon vision becomes reality.
The Modern Treaty Simulation is a new concept that came out of months of discussions and research, which is documented in The Gordon Foundation's Treaty Negotiators of the Future report. The report highlights the simulation as an effective way to engage Indigenous emerging leaders in modern and historical treaties.
The simulation was designed to build inter-generational connections and transfer knowledge from negotiators to new leaders who, in coming years, will play crucial roles in redefining the relationship between Canada and their communities.
On the first day of the simulation, participants engaged in insightful discussion with experienced negotiators, representatives from the federal government and legal experts. They spent the second day negotiating a section of a wildlife harvesting and management chapter of a mock modern treaty. On the third day, they negotiated the implementation plan for the section of the chapter negotiated by a different group. Everyone had a turn representing a negotiator from First Nation,  federal and territorial government. Negotiators and experts guided the participants throughout the simulation.
This simulation ensured that the insights and experience of negotiators (former and current) are passed on to the next generation and that connections were made across Indigenous Nations and groups to advance a better path towards self-determination.
---
Negotiators
Danny Gaudet, negotiator (Deline Self Government Agreement)
Joseph Gosnell, negotiator (Nisga'a Agreement)
Dave Joe, negotiator (Yukon Umbrella Agreement)
John B. Zoe, negotiator (Tlicho Agreement)
Participants came from:
Tsawwassen First Nation
Ka:'yu:'k't'h'/Che:k'tles7et'h' First Nation
Ucluelet First Nation
Nisga'a First Nation
Taloyoak, Nunavut
Tlicho First Nation
Cree Nation
Gwich'in First Nation
Little Salmon Carmacks First Nation
Tondek Hwechin First Nation
Champagne and Aishihik First Nation
Ta'an Kwach'an First Nation
Selkirk First Nation
Other Presenters
Allan MacDonald, Director General, Implementation Branch, Crown-Indigenous Relations and Norther Affairs
Hayden King, Advisor to the Dean, Indigenous Education / Director, Yellowhead Institute
Stephanie Irlbacher-Fox, Owner- Fox Consulting
Larry Innes, Partner, Olthuis Kleer Townshend – LLP
The Gordon Foundation hosted the simulation and would like to thank the LCAC, Crown-Indigenous Relations and Northern Affairs Canada, McConnell Foundation, Arctic Institute of Community Based Research and Dionne Schulze S.E.N.C. attorneys for their support.