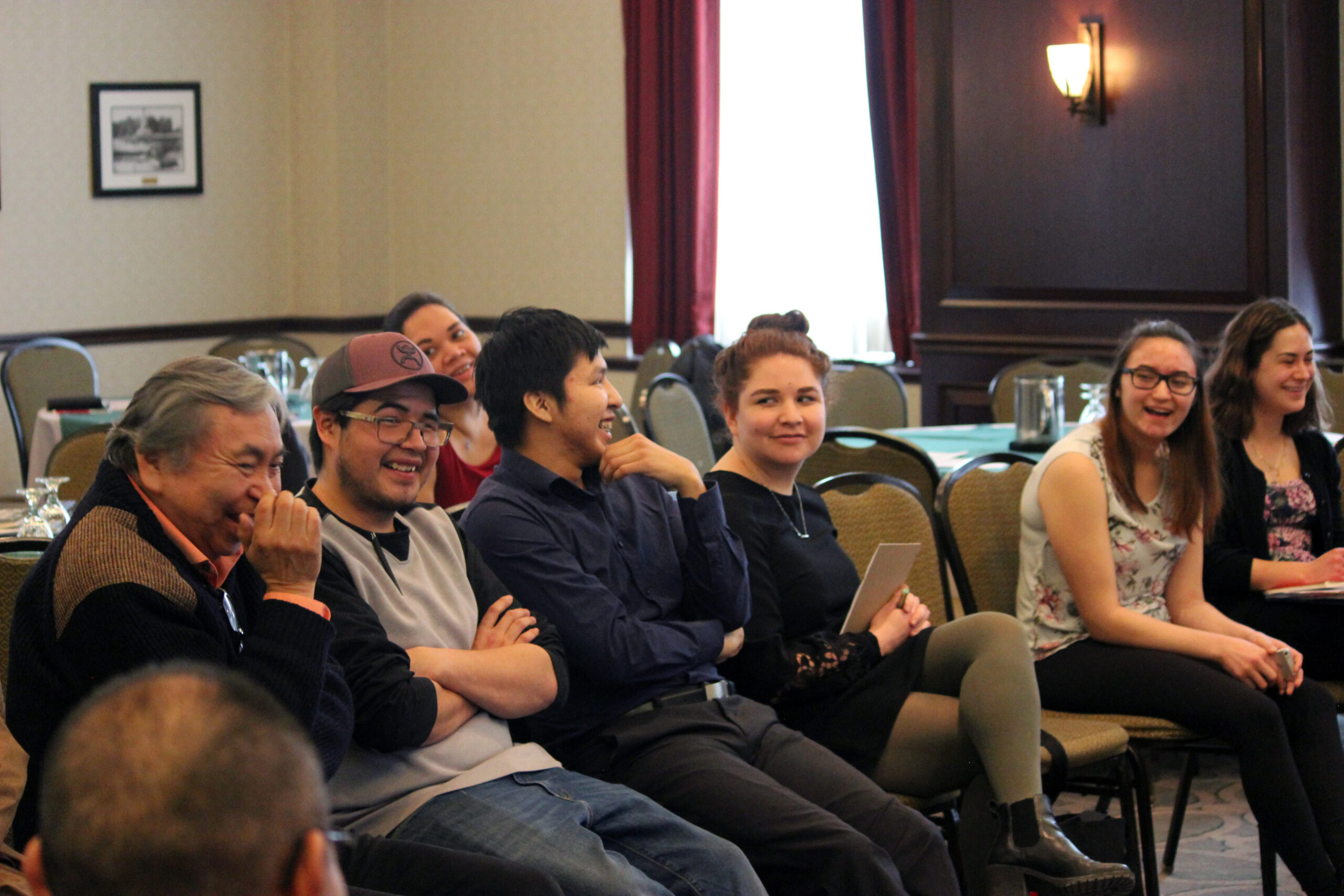 ---
The Métis Nation of Ontario Simulation, taking place in partnership with the Métis Nation of Ontario (MNO) and Métis Nation of Ontario Youth Council (MNOYC), is scheduled for later this month, ahead of the Third National Treaty Simulation in March.  
If you're curious about what those events will look like, we're here to answer some common questions about treaty simulations.
What exactly is a treaty simulation?
A treaty simulation (also called a treaty negotiation and implementation simulation) is an exciting hands-on learning experience where participants negotiate and implement part of a fictional modern treaty (also known as a Comprehensive Land Claims Agreement), which may include a self-government agreement. For example, the second National Treaty Simulation, held in February 2020 in Gatineau, focused on Chapter 8, Wildlife Harvesting and Management, for a fictitious Land Claims and Self Government Agreement. The simulation can also just focus on a self-government agreement.
At the start, all participants hear from treaty advisors, who have decades of treaty negotiation experience and/or are implementing their treaties. The role of the advisors is a critical part of the simulation and they are present throughout to offer their advice and wisdom.
Then, everyone splits into groups representing different parties – for example, an Indigenous government, the federal government, and a provincial or territorial government.
Then negotiations begin – teams prepare and present their positions and then debate back and forth until an agreement is reached, for example, they may be negotiating about a structure that will manage wildlife harvesting. The second stage of the simulation looks at the implementation of the agreement, usually reflecting a current challenge that modern treaty holders face.
Treaty Simulations used to take place in-person, but since COVID-19 became part of all our lives, most have been taking place online, via zoom. Find out about the inspiration for the treaty simulation model.  
Who takes part?
We began by running simulations for Indigenous emerging leaders aged from 15 to 35, and non-Indigenous peoples have also participated in recent events, which have included adults over 35 years of age. Simulations vary in size – the second National Simulation saw over 40 Indigenous emerging leaders representing 20 Indigenous communities from B.C., Quebec, Northwest Territories, Yukon and Nunavut attend. Others can be much smaller and are organized in partnership with a specific organization or community.
Why should I take part?
We are all treaty people in Canada, and so learning about treaties is important for everyone. Modern treaties are important shapers of the relationships between First Nations, Inuit and Métis (Indigenous peoples), and Canada. 
Since 1975, 26 modern treaties have been signed, recognizing Indigenous ownership of more than 600,000 square kilometers of land. Many more will be signed in the coming years. 
These agreements are fundamentally changing Canada by re-establishing Indigenous knowledge systems in all areas that impact our lives, including land, resource and economic development, education, health, and social services, environmental protection, and governance.
The development of treaty simulations for emerging Indigenous leaders was a recommendation included in the Treaty Negotiators of the Future report. The report followed partners of The Gordon Foundation noting a lack of knowledge and interest in modern treaties across Canada and the importance of engaging the next generation of leaders. Find out about the treaty simulations run so far. 
I don't know anything about treaties, can I take part?
Yes. All the information you'll need will be provided beforehand – through written materials and videos. Some participants know a lot about treaties before they take part and some very little, but nearly everyone leaves with an increased interest in modern treaties and appreciation of their importance. 
Will I learn any skills I can use after the simulation?
Evaluating the impact of treaty simulations is a vital part of our work. Participants have told us that they leave with increased skills in areas including negotiation practices and strategies, critical thinking, problem solving, decision making, public speaking, and working in teams.
There are also benefits from creating intergenerational connections, gaining knowledge from the advisors, and building personal networks.
How do I get involved?
Visit Understanding our Treaties to find out more about treaties through an interactive learning experience and see a list of upcoming simulations. Contact [email protected] if you would like to participate in an upcoming simulation or run one in your community, school or workplace. If you aren't ready to take part in a simulation, Understanding our Treaties contains loads of other great content so you can start your own learning journey.